Overview
Beginning in 2016, Provost's Faculty Fellows for Undergraduate Affairs and Graduate Affairs have been working with the schools and colleges on the substantive issues involved in their proposals for new academic programs and changes to programs.
Those selected for the honor are respected  scholars and researchers from across the BU academic community. As proposals make their way through the university-level peer review process (eCAP), the Fellows coordinate with members of the Provost's staff to assure the integrity and efficiency of the review.
Current Faculty Fellows
2022 Fellow for Undergraduate Affairs – Lida Maxwell
Associate Professor, Department of Political Science and Women's, Gender & Sexuality Studies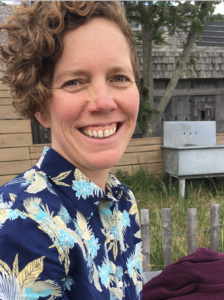 Dr. Lida Maxwell is an associate professor of political science and women's, gender, and sexuality studies in the College of Arts & Sciences, with a research focus on political theory, feminist theory, queer theory, and environmental political theory. Dr. Maxwell has been a distinguished member of the BU faculty since 2018, and in this time has served as a Fellow for the Boston University Center for Humanities and a member of the General Education Committee. During more than 15 years of teaching experience, Dr. Maxwell has been widely published, with articles appearing in Political Theory, Contemporary Political Theory, and Theory and Event. She is currently working on a new venture exploring environmental and queer political theory.
---
2021 Fellow for Graduate Programs and Policies – Ayşe Parla
Associate Professor, Department of Anthropology, College of Arts & Sciences
Ayşe Parla is a sociocultural anthropologist whose work focuses on issues of migration, citizenship, hope, and precarity among ethnic minorities in Turkey. Her first book, Precarious Hope: Migration and the Limits of Belonging in Turkey (Stanford University Press, 2019), explored the limits of belonging in Turkey from the perspective of Turkish migrants from Bulgaria who are ethnically privileged but economically precarious, and for whom citizenship is promised even if not guaranteed. Her current project, Graveyards, Necropower and Present Absences, focuses on the postgenocide dispossession of Armenians in Turkey and the legalization and cultural normalization of dispossession. It tracks necropolitical policies of destruction and the confiscation of Armenian cemeteries as well as the care and preservation by the community of other remaining cemeteries. Professor Parla is a past fellow and visiting scholar at the Institute for Advanced Study. In addition to her book projects, she has authored numerous book chapters and encyclopedia entries, and over a dozen articles in top peer-reviewed journals, including History and Anthropology.
Past Fellows: