Kenneth Elmore
Associate Provost and Dean of Students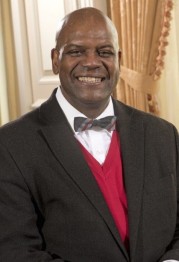 As Associate Provost and Dean of Students, Kenneth Elmore coordinates University efforts to provide a safe environment, where students can find their way within a vibrant academic community. He additionally works with the President and Provost to raise philanthropic support for undergraduate student scholarships, and shares leadership and management of projects associated with student-focused facilities, physical infrastructure, and capital projects.
Kenn's duties as Dean of Students include advising student organizations, planning ways to acclimate students to the University, setting and regulating standards, offering academic support, helping students navigate career goals, making certain the University experience is accessible, and creating a vibrant and welcoming living-learning environment. The offices reporting to Kenn—the Community Service Center, Disability Services, Howard Thurman Center, Judicial Affairs, Orientation, Residence Life, Student Activities—respond to student concerns, help students solve their problems, and help students build communities.
Appointed in 2003, Kenn has more than 25 years of administrative experience in higher education. Prior to his appointment, he managed orientation programs, campus activities, and residence operations at Boston University. He has also practiced law within the Boston area. Kenn earned his AB in Psychology from Brown University; a Master of Education in Policy, Planning & Administration from Boston University; and, a JD from New England Law.
Learn more about the Associate Provost and Dean of Students.