Beth Loizeaux
Special Advisor to the Provost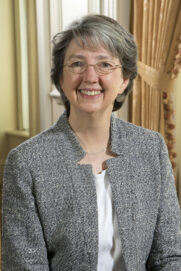 Elizabeth Bergmann Loizeaux is Special Advisor to the Provost and past Associate Provost for Undergraduate Affairs and Professor of English at BU (2012-2019). Beth works nationally on issues in higher education as a member of the Executive Committee of the Reinvention Collaborative, a consortium of more than 80 research universities dedicated to innovation and excellence in undergraduate education. Currently, she leads a project to evaluate progress on the landmark 1998 Boyer Report's recommendations for reinventing undergraduate education at US research universities, and to create a new 20-year blueprint reflecting universities' unique responsibilities and promises for excellence and equity in undergraduate education. With BU's Assistant Provost for Undergraduate Advising, Beth also helps lead a multi-institutional Reinvention Collaborative advising initiative to support all students in exploring their interests and charting full, rich, and meaningful educational paths.
As Associate Provost for Undergraduate Affairs, Beth provided leadership on a host of core academic efforts, working closely with Boston University's 17 schools and colleges to promote collaboration and strengthen the undergraduate experience. She led the development of BU's first university-wide general education program, the BU Hub, established the Advising Network, oversaw the evolution of Kilachand Honors College, and helped initiate BU's educational technology strategy and enhance the Center for Teaching & Learning, among other accomplishments. Key to her efforts was expanding and supporting student access to all aspects of BU's offerings across disciplines.
Prior to her arrival at BU in 2012, Beth served as Associate Dean for Academic Affairs and Professor of English in the College of Arts and Humanities at the University of Maryland, College Park. An internationally respected scholar, she writes about 20th century poetry and the visual arts, most recently on the press and embroidery workshop founded by the sisters of William Butler Yeats. Her books include Twentieth-Century Poetry and the Visual Arts (Cambridge University Press, 2008) and Reimagining Textuality: Textual Studies in the Late Age of Print, co edited with Neil Fraistat (Wisconsin, 2003). Beth's more than 25 years of classroom experience include overseas teaching in England, Ireland and Germany. A graduate of Mount Holyoke College, she received her MA and PhD in English from the University of Michigan.