2021 Provost's Scholar-Teacher of the Year Award Winner
Pamela Templer, of the Department of Biology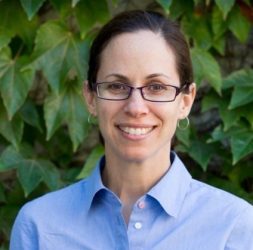 Dr. Pamela Templar's thoughtful integration of original research into her teaching practices embodies the spirit of a scholar-teacher. In the classroom, Dr. Templer uses findings from her own climate and pollution studies to teach students how to analyze data and examine the impact of human activity on terrestrial and aquatic ecosystems.
A frequent presenter at national and international conferences, she is a Fellow and Vice-President for Education in the Ecological Society of America, and her research group has published nearly 90 articles in premier scholarly journals. This convergence of excellence in research and teaching is at the core of what the Provost's Scholar-Teacher Award celebrates.
Dr. Templer is a devoted champion of interdisciplinary learning. As director of the BU URBAN program, supported by a major National Science Foundation grant, she leads faculty from over a half dozen fields in training graduate students across the University to address urban environmental challenges. Within the Biology department, Dr. Templer has shown similar devotion in developing Biology of Change, now one of the program's most popular courses, which draws students from diverse majors to investigate the impacts of environmental change in Boston.
Dr. Templer motivates her students to take charge of their own learning and to apply it to real-world environmental problems. In her Forest Ecology course, students write grant proposals to study the questions that most interest them, and many have gone on to receive funding from federal agencies to pursue this research. Her teaching evaluations are routinely peppered with adjectives like 'passionate,' 'encouraging,' and 'engaging,' with students citing her knack for making course material at once lively and deeply meaningful.