Nicole Hawkes
Associate Provost for Strategic Initiatives and Chief of Staff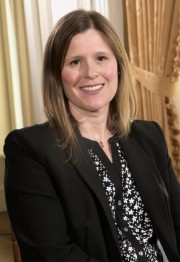 Nicole Hawkes is Associate Provost for Strategic Initiatives and Chief of Staff in the Office of the University Provost. In her role as Associate Provost, Nicole leads priority efforts on behalf of the Provost related to all aspects of the University's academic mission, including strategic planning and academic program development. She works closely with the Provost on a range of initiatives aimed at enhancing the quality of academic programs and the academic reputation of Boston University. Central to her portfolio, Nicole provides oversight of and represents the Provost in the University's academic program review process. She works with administration and faculty on measures to advance the excellence and impact of programs, informed by the results of systematic reviews and the University's strategic plan.
As Chief of Staff, Nicole provides essential coordination within the Provost's Office on activities, decisions, and communications involving Academic Deans, members of Provost's Cabinet, and senior administrative leaders. She also oversees all day-to-day administrative support operations of the Office of the Provost, including management and direction of the Provost's executive support team.
Prior to joining Boston University in 2011, Nicole served as Associate Provost for Academic Affairs at the University of Southern California and as Senior Program Associate in the MacArthur Fellows Program of the John D. and Catherine T. MacArthur Foundation. Nicole received her BA in History from Mount Holyoke College in 1996; her MA in African Studies from the University of Illinois, Urbana-Champaign in 2000; and her MS in Arts Administration from Boston University in 2002.
Learn more about Academic Program Review.