Graduate Student Open House for BU Physics
Thursday, March 23, 2023 to Saturday, March 25, 2023
This year, we are excited to host an in-person open house format and give invited applicants a chance to connect with our physics community! This event provides a unique opportunity to meet with our students, faculty, and staff to learn more about our program and help attendees decide if BU Physics is the best choice for them. Any inquiries along these lines may be directed to Prof. Chris Grant, chair of the admissions committee, or Christina Crabtree, our Graduate Program Administrator. Please check your email for invitations as well as for travel and accommodations information. In addition, to our in person open house, we will also be hosting a shorter Virtual Open House (deatails to follow).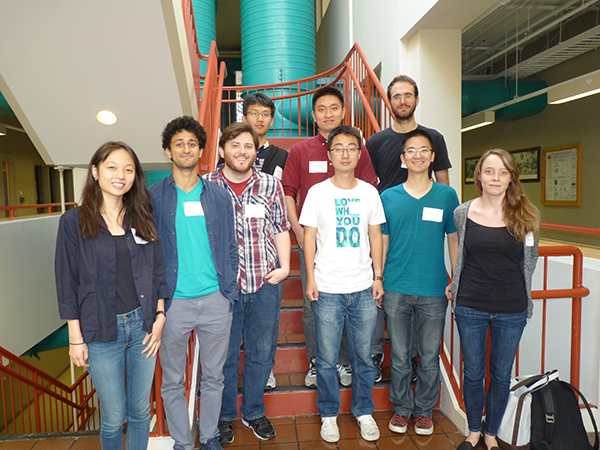 Tentative Open House Schedule:
Thursday, March 23
7:00 pm – 9:45 pm: Welcome drinks and snacks at the BU PUB. (2 drinks, nachos, tenders, and flatbread will be provided).  Address: 225 Bay State Road

Friday, March 24
Breakfast and all morning activities are on 5th Floor of Physics Research Building (PRB) in Room 595. (3 Cummington Ave).
8:30 am – 9:15 am: Welcome breakfast

9:15 am – 12:00 pm: Mini-symposium on BU research opportunities

12:00 pm – 2:00 pm: Lunch with Graduate Students at Marciano Commons

2:00 pm – 5:00 pm: Small group (1 or 2 people) conversations with faculty :   Thank you for those who got back to me before Monday evening. I have tried my best to accommodate your requests in the schedule below. The schedule consists of  20 minutes blocks: 2-2:20, 2:30-2:50, 3:00-3:20, 3:30-3:50, 4:00-4:20, 4:30-4:50.  If you have an open slot, please feel free to join another session with any faculty member even if another student's name appears. We are requesting that at most two students meet with the faculty at one time. The pre-scheduled meetings based on responses can be found at this link:  MEETING SCHEDULE (Sheet 1 is by professor and Sheet 2 is by perspective student).
5:00 pm – 5:30 pm: Women in Physics (WIP) presentation (Basement of Metcalf Science Center  (SCI), 590 Commonwealth Ave.)

5:30 pm – 6:30 pm: Graduate student research and posters (Basement of Metcalf Science Center  (SCI), 590 Commonwealth Ave.)

6:30 pm – 9:30 pm: BU Physics community dinner (Basement of Metcalf Science Center (SCI), 590 Commonwealth Ave.)

Saturday, March 25
We look forward to meeting you in person! In the meanwhile, if you have any questions, please contact Prof. Pankaj Mehta, Open House Coordinator, for general inquiries  and Christina Crabtree, Graduate Program Administrator for BU Physics, for questions about logistics, travel, reimbursements etc.
Arrival & Lodging:
We suggest that you arrive on Thursday afternoon or evening and depart on Saturday. Lodging information and reservations can be obtained from Christina Crabtree.  Lodging accommodations are being covered for two nights – Thursday, March 23, and Friday, March 24.