It Can Lead to More
Preparing For the Future
Philosophy emphasizes developing critical thinking and reasoning, providing you with a great tool set for continued education in either graduate or professional school.
The GREs
Data collated and graphed by Physics Central shows how Philosophy students dominate the GREs, handily taking the #1 spots for both analytic writing and verbal reasoning portions of the exam. As a general test used by many graduate programs to assess a student's skills, doing well on these exams can be an important component of getting accepted into the program of your choice.
The graphs below are taken from Physics Central: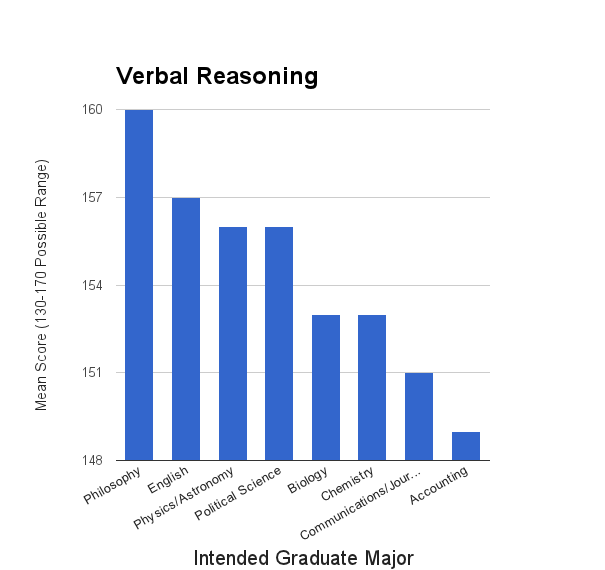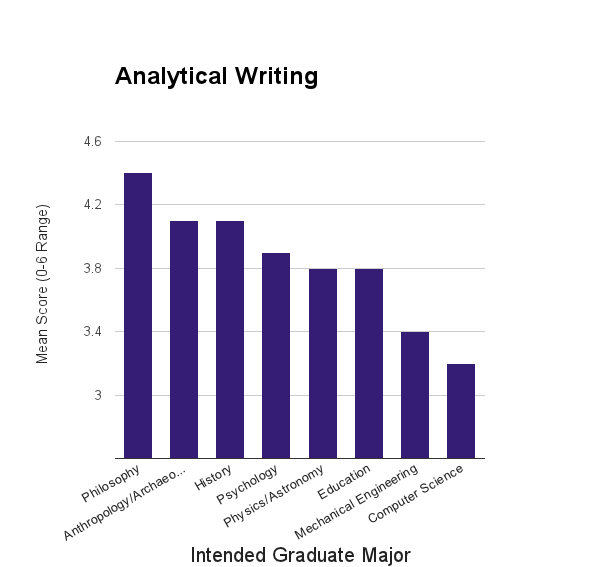 Medical School
There's a myth surrounding medical school that in order to succeed, one must major in a STEM field (most often, biology). While medical schools do require a number of pre-requisite science courses, there is no need to major in it. This idea is best expounded on by Paul Jung in "Major Anxiety" wherein he outlines that there is a 50% acceptance rate into med school for Philosophy majors. The reasons for this are many, but his assessments are basically that Philosophy major applicants are more unique, and possibly more well-rounded than their STEM cohorts. Based on recent data released by the AAMC, his original break down still holds: 48.5% of Philosophy majors who apply to medical school get accepted. That is a much better rate than biology.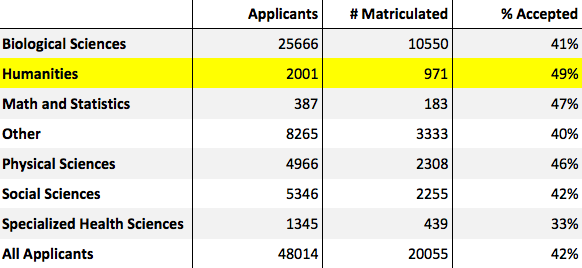 Business School
Many of the reasons Philosophy majors excel in business school are outlined in the jobs section already, but simply put Philosophy majors are innovative and adaptable. As a Philosophy major, you will learn how to reason through and analyze a problem clearly, and often this level of clarity allows you to come up with unique and effective solutions.
As is the case with the GREs, Philosophy majors tend to perform very well on the GMATs, consistently ranking in the top 5. The data cited by F1GMAT shows this very clearly. (Note: The original data cannot be accessed by students, but was provided by GMAC online here).
Law School
Law requires the highest level of critical thinking and logical acuity. Naturally, then, Philosophy and Law synergize incredibly well.
From a letter written by Nancy R Garmund, an Intellectual Property Lawyer and former Philosophy major posted by Rutgers Unviersity:
…my education in philosophy has been invaluable, both professionally and personally – as a superb foundation for graduate studies in law and engineering, for my patent law career, and for daily life as well. I know that prospective majors (and their parents!) often fear that a philosophy major may be a completely impractical indulgence, but I'm here to attest that the exact opposite is the case.
…Philosophy is the best background one could possibly have for law school – no other area of undergraduate education so fully develops a student's expertise in logical argument, reasoning, and advocacy. From the first day of law school, I realized that I was considerably ahead of my classmates in recognizing, understanding, and analyzing legal issues, both because of these analytical and advocacy skills and because law is a very natural extension of so many areas of philosophy. Subsequently, as a partner in a national law firm, I often reviewed the legal work of associate attorneys and other partners. Those attorneys, with diverse educational backgrounds, were not as skilled in recognizing key legal and technical issues, creating a logical flow of ideas, and crafting a winning argument.
Philosophy majors are no slouches at the LSATs either– in majors with over 1,000 applicants, they rank #1 in the results according to data collected and shared by Derek T. Muller, Associate Professor of Law, Pepperdine University School of Law online here.
Have Questions?
Have any questions or want to know more about anything on this page? Want to meet with a faculty member to discuss studying Philosophy more in depth, or just want to know what to expect before you embark? Please contact us at casphilo@bu.edu.