Core Capacities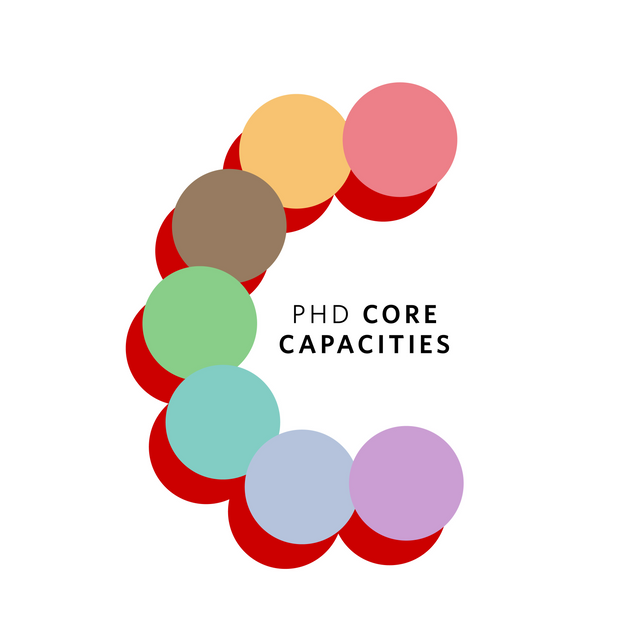 The PhD Core Capacities are a set of seven skills that build upon the learning outcomes that exist within doctoral programs across the University. These capacities provide a framework for you to articulate the skills and knowledge you are gaining through your PhD education to professional audiences. Learning these skills is part of preparation for serving effectively in a diverse, inclusive, and global professional landscape.
The skills we have defined will contribute to preparation for a variety of doctoral career pathways. We expect that you will go into depth differently for each capacity based on the requirements of your program, as well as the expectations and skillsets required for your desired career. 
The capacities themselves are divided into three Learning Levels:
Level 1: Skills Exploration
Level 2: Skills Development
Level 3: Skills Application
---
In the descriptions below you will find Level 1 & Level 2 learning outcomes for each Capacity.
Career Development
An essential part of doctoral training is intentional career planning and preparation. Focusing on Career Development will help you to outline professional goals and identify ways to achieve them as well as define your professional interests, attitudes, skills, and values to inform your career planning.
Level 1
Level 2
Discipline Specific Knowledge
Students should advance their foundational knowledge within their field in order to be able to successfully construct an independent thesis.
Level 1
Level 2
Research Skills
Developing independence as a scholar in a given discipline is essential to developing and evaluating research questions. Depending on the discipline, this could involve technical or laboratory skills, gathering empirical information, data collection and analysis, and communication of results. Advancement as a researcher also requires a commitment to the integrity of the research enterprise, as well as rigor and reproducibility in scientific or scholarly results.
Level 1
Level 2
Management & Leadership
Completing a PhD should prepare our students to be able to manage complex projects and lead and mentor colleagues in their field. These skills include operational skills, such managing resources, designing projects to be flexible in order to adapt to unanticipated events and situations, and managing budgets. But they also include interpersonal skills, including relationship building, negotiation, multi-cultural awareness, diversity and inclusion, collaboration and teamwork, resolving conflicts, managing people, and mentorship.
Level 1
Level 2
Self Awareness
Centering the PhD on our students means we have to consider them as whole individuals, including the integration of their work and their broader lives and interests. Self Awareness is a skill that contributes to time and task management, emotional intelligence, setting boundaries, and building resilience.
Level 1
Level 2
Communication Skills
Demonstrating effective communication is embedded in the completion of each milestone associated with the doctorate degree, from the preliminary prospectus exam to the final defense. It is also essential in all career pathways. Students should demonstrate proficiency across many media and to many audiences. Representative skills include grant writing, presentations, digital and social media, and outreach.
Level 1
Level 2
Teaching Skills
Our academic tradition is rooted in learning. Teaching skills include those focused on effective teaching practices in a classroom, such as identifying student learning goals, course planning, creating inclusive learning spaces, implementing active learning, and assessment. But they also include skills related to informal learning environments like student advising and tutoring, as well as those that are more broadly applicable to non-academic careers, such as facilitating productive discussions that advance knowledge for all participants.
Level 1
Level 2