PhD Progression

What is PhD Progression?
PhD Progression is an online training program that provides you with modules, or badges, to support your career & professional development during your PhD, and help you prepare for your post-PhD career.
PhD Progression is for PhD students from all fields:
160+ online badges which you can complete at your own pace and whenever you need them
Each badge takes 45 to 90 minutes to complete, on any type of device
Badges have been designed to allow you to gain skills in 7 Core Capacities
Badges are organized in 3 levels of learning: Skills Exploration, Skills Development, and Skills Application
Badges are linked with each other in pathways – there is one pathway per Core Capacity and in each level of learning.
Please use the form below to subscribe to specific PhD Progression pathways; you will receive a confirmation email once you are subscribed to specific pathways.
Subscription Form
Explore Pathways
---
Why digital badges?
Digital badges are gaining increasing popularity with employers and educational institutions as markers of professional training and development accomplished outside traditional learning environments. Furthermore, they contain meta-data providing information about what a badge holder did to earn that badge. They can also be shared on social media, like LinkedIn or Twitter, to show potential employers that you have invested time and energy in your professional development to increase your marketability.
Boston University PhD Students involved in the PhD Progression pilot program enjoyed gaining PhD Progression badges: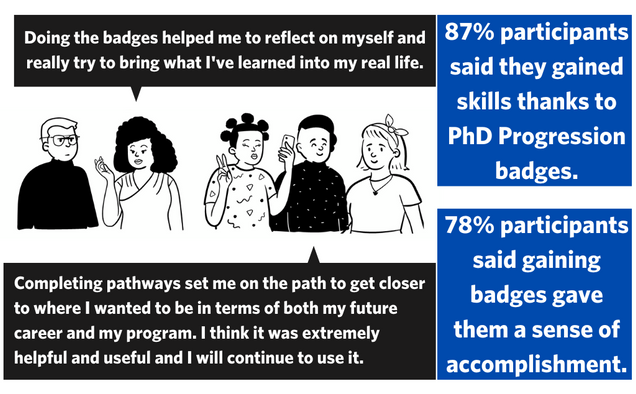 ---
Which badges should you complete throughout your PhD?
Search all Badges
Click on the image below to access a PDF of a proposed timeline with pathway and badge suggestions for you to complete at each phase of your PhD (coursework, qualifying exams, dissertation prospectus, research, teaching, dissertation writing, conferencing and job applications):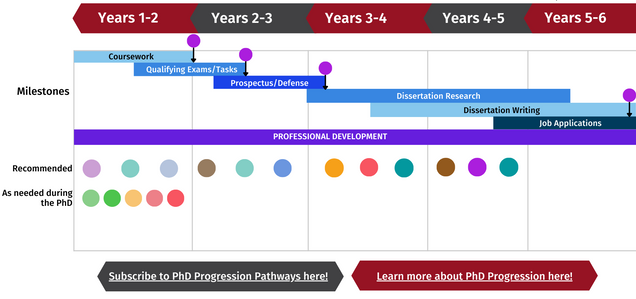 ---
Don't like working on your own?

Join a Learning Community!
We host regular Learning Communities to supplement asynchronous learning in the Pathways.
Learning Communities
---
Do you have any further questions?
Check out our PhD Progression Guide & FAQs page!
Do you have feedback or did you find broken links or issues in a badge?
Please share any feedback you may have or any issues you encountered when taking badges in this form.
Hit a milestone but did not find a relevant badge? Create your own!
If you believe you have done work equivalent to one of our badges, and would like to earn a badge as a marker of that achievement, please visit the Badging Appeals page, and fill out the form.