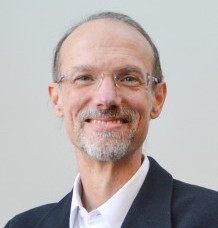 Mark Grinstaff
Mark W. Grinstaff is a Distinguished Professor of Translational Research, Biomedical Engineering, Chemistry, Materials Science and Engineering, and Medicine as well as the Director of the NIH T32 Program in Biomaterials and the Director of the Nanotechnology Innovation Center at Boston University.
Mark received his Ph.D. from the University of Illinois under the mentorship of Professor Kenneth S. Suslick and was an NIH postdoctoral fellow at the California Institute of Technology with Professor Harry B. Gray. Mark's awards include the ACS Nobel Laureate Signature Award, NSF Career Award, Pew Scholar in the Biomedical Sciences, Camille Dreyfus Teacher- Scholar, Alfred P. Sloan Research Fellowship, the Edward M. Kennedy Award for Health Care Innovation, and a Founding Fellow of the National Academy of Inventors. He is an author or co-author on more than 225 peer-reviewed manuscripts, given more than 300 oral presentations, and an inventor or co- inventor on more than 200 issued patents or pending applications. His students and fellows have given more than 125 oral presentations and 350 posters at national and international meetings.
Mark's current research activities involve the synthesis of new macromolecules and biomaterials, self-assembly chemistry, imaging contrast agents, drug delivery, and wound repair. His group pursues highly interdisciplinary research in the areas of biomedical engineering and macromolecular chemistry. The major goal in these research projects is to elucidate the underlying fundamental chemistry and engineering principles and to use that insight to direct our creative and scientific efforts. In one of their current research projects, they are designing, synthesizing, and characterizing novel dendrimers, termed "biodendrimers," for tissue engineering and biotechnological applications. Currently, they are evaluating these novel biomaterials for the repair of corneal lacerations, for the delivery of anti-cancer drugs, for the delivery of DNA, and as temporary biodegradable scaffolds for cartilage repair. In a second project, they are creating novel polymeric coatings termed "interfacial biomaterials" that control biology on plastic, metal, and ceramic surfaces. In a third project, they are designing new polymeric films and nanoparticles loaded with anticancer drugs for the prevention of recurrent cancer after surgical resection.
Mark is a co-founder of several companies that are commercializing his ideas, and he has several products being sold and used in the clinic.