New collaboration forged at PASI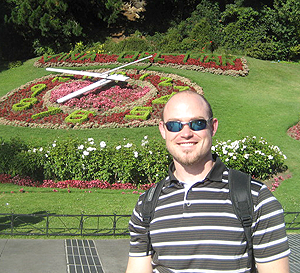 David Ketcheson and Jefferey Stuart—both PASI 2011 participants who met while in Chile—have formed a team of Applied Mathematicians and Computer Scientists from KAUST, UC Davis, University of Washington, and the American University of Beirut, to work on the explicit solution of hyperbolic partial differential equations on GPUs.
Specifically, the team has started work on porting compute-intensive Riemann solvers to CUDA for use in the package PyCLAW and for standalone use. They are preparing to submit their work as a paper to InPar 2011 and as a poster to SC 2011.
Jefferey Stuart is a PhD student at University of California, Davis, under the supervision of Prof. John Owens. He has focused almost exclusively on using GPUs in his graduate work, notably creating a MapReduce implementation on a cluster of GPUs. Jeff explicitly wanted to attend the PASI in Chile to network with other researchers with the purpose of starting new collaborations. It is already paying off for him to have participated!
David Ketcheson is an Assistant Professor of Applied Mathematics at King Abdullah University of Science and Technology since July 2009. Previously, he was a graduate student at the University of Washington, and a US Department of Energy Computational Science Graduate Fellow. His doctoral supervisor was renowned Professor Randall J. LeVeque.
The new collaboration between David and Jeff was instigated by Aron Ahmadia, a computational scientist from the KAUST Supercomputing Lab, who met Jeff at the PASI and invited him to KAUST with the idea of getting Jeff and David to work together. This initiative was strengthened by the in-person meeting at KAUST, during a workshop that David says was in great part organized during PASI—being in Valparaiso together with Matthew Knepley (PASI lecturer) and Aron Ahmadia (participant) allowed them to plan the event.
This is the type of ripple effect that a successful scientific gathering aims to have. We are grateful to David, Jeff, Matt and Aron for coming to Chile for this PASI and helping make it a success.