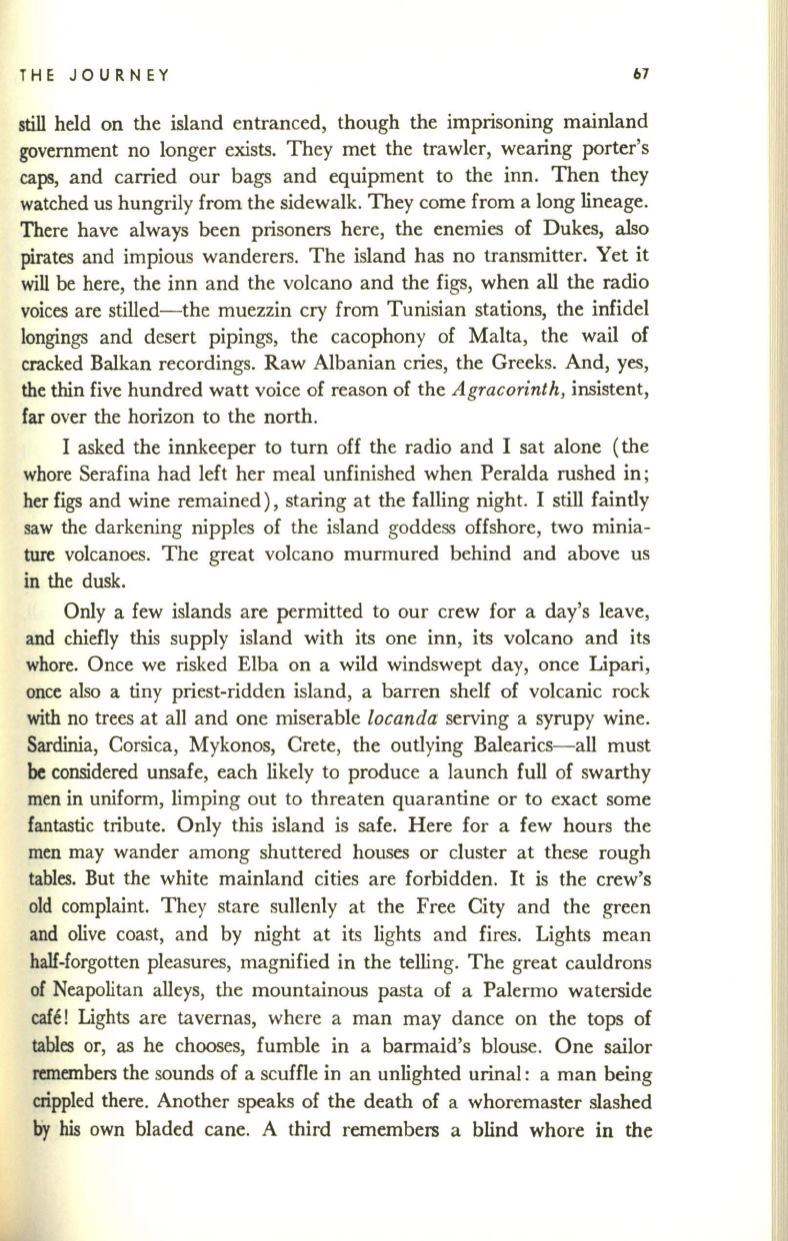 held on the island entranced, though the imprisoning mainland
government no longer exists. They met the trawler, wearing porter's
and carried our bags and equipment to the inn. Then they
watched us hungrily from the sidewalk. They come from a long lineage.
There have always been prisoners here, the enemies of Dukes, also
pirates and impious wanderers. The island has no transmitter. Yet it
will be here, the inn and the volcano and the figs, when all the radio
voices are stilled-the muezzin cry from Tunisian stations, the infidel
longings and desert pipings, the cacophony of Malta, the wail of
cracked Balkan recordings. Raw Albanian cries, the Greeks. And, yes,
the thin five hundred watt voice of reason of the
Agraeorinth,
far over the horizon to the north.
I asked the innkeeper to turn off the radio and I sat alone (the
whore Serafina had left her meal unfinished when Peralda rushed in;
her figs and wine remained), staring at the falling night. I still faintly
saw the darkening nipples of the island goddess offshore, two minia–
volcanoes. The great volcano murmured behind and above us
Only a few islands are permitted to our crew for a day's leave,
and chiefly this supply island with its one inn, its volcano and its
whore. Once we risked Elba on a wild windswept day, once Lipari,
once also a tiny priest-ridden island, a barren shelf of volcanic rock
with no trees at all and one miserable
loeanda
Sardinia, Corsica, Mykonos, Crete, the outlying Balearics-all must
considered unsafe, each likely to produce a launch full of swarthy
men in uniform, limping out to threaten quarantine or to exact some
fantastic tribute. Only this island is safe. Here for a few hours the
men may wander among shuttered houses or cluster at these rough
tables. But the white mainland cities are forbidden. It is the crew's
old complaint. They stare sullenly at the Free City and the green
and olive coast, and by night at its lights and fires. Lights mean
half-forgotten pleasures, magnified in the telling. The great cauldrons
of Neapolitan alleys, the mountainous pasta of a Palermo waterside
Lights are tavernas, where a man may dance on the tops of
tables or, as he chooses, fumble in a barmaid's blouse. One sailor
remembers the sounds of a scuffle in an unlighted urinal: a man being
crippled there. Another speaks of the death of a whoremaster slashed
his own bladed cane. A third remembers a blind whore in the