Visitor's Guide & Accommodations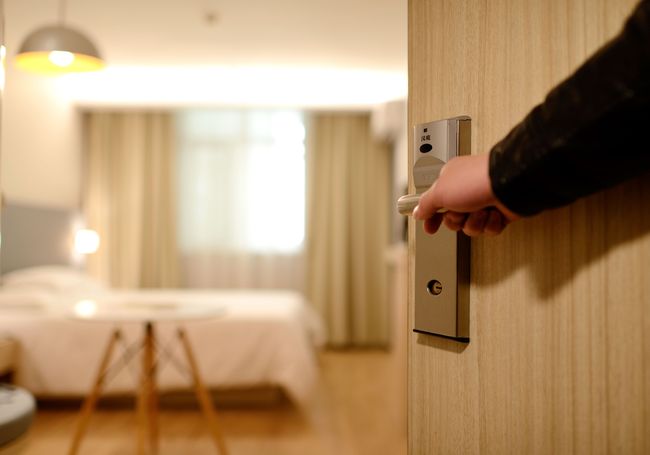 Overnight Accommodations for Parents & Families during Student Orientation Sessions 1-4
Family members, if you are traveling to Boston University with your student who will be attending in-person Student Orientation, you will have the opportunity to reserve affordable accommodations at 10 Buick Street—an air conditioned, modern, high-rise, residence hall. Individuals and couples can reserve private bedrooms within a shared suite. Families of 3-5 can reserve their own suite. Rooms will be available during Orientation Sessions 1-4 on Tuesday nights through Friday mornings. Please click here to make reservations for overnight accommodations at 10 Buick Street.
Please note that Student Orientation Sessions 5 and 6 are virtual. Session 7 conflicts with move-in, so accommodations are not available during this session. Finally, our complimentary Parent & Family Orientation sessions will be held virtually, for dates and additional information, including, registration, please click here for details.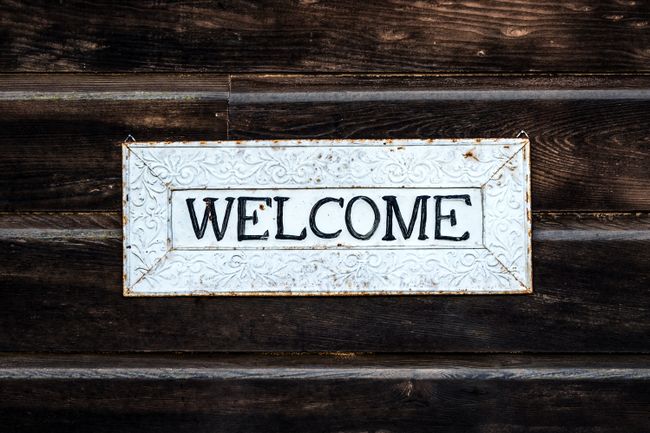 Welcome Centers for Parents & Families during Student Orientation Sessions 1-4
The Parent & Family Programs' team will be welcoming family members visiting campus during the in-person Student Orientation. Please join us at our Welcome Centers in the lobby of the Agganis Arena, 925 Commonwealth Avenue during Student Orientation sessions 1-4 from 9 am-12 pm (ET). The following are the dates and times for our centers where we'll be on hand to answer your questions about BU and the City of Boston. (Registration is not required.)
Session 1          Welcome Center          Wednesday, June 8, 2022, 9 am-12 pm (ET)
Session 2         Welcome Center          Wednesday, June 15, 2022, 9 am-12 pm (ET)
Session 3         Welcome Center         Wednesday, June 22, 2022, 9 am-12 pm (ET)
Session 4         Welcome Center         Wednesday, June 29, 2022, 9 am-12 pm (ET)
In addition, you are invited to visit Barnes & Noble at BU, 910 Commonwealth Avenue, at 12:30 pm (ET) following each Welcome Center session to learn how to navigate course materials during a Q&A with bookstore staff about affordability and best practices to ordering materials. (Registration is not required.)
If you are interested in touring campus while you are in Boston, please make a reservation in advance for an Information Session & Campus Tour via the Admissions website. Tours will not be available through the Welcome Centers. Campus tours available via the Admissions Office are likely to reach capacity.
Complimentary Parking for Student Orientation Sessions 1-4 & 7
If you or your student plans to drive to Orientation Sessions 1-4 or 7 this summer, please utilize the parking pass that will be available in the coming weeks for complimentary parking, including overnight parking on campus, in designated parking areas. Please read the details carefully, print a copy of the pass for your dashboard, and have the QR code ready to scan for entry into the designated parking lots/garages.
Guide to Area Hotels
If you're planning to visit Boston, and we hope that you are, we have put together a list of hotels convenient to campus. For our comprehensive list, please click here.
Guide to Local Transportation
The best way to get around Boston may be on foot (we are known for our traffic) but we also recommend using the Massachusetts Bay Transportation Authority (MBTA), more commonly known as the "T." The Green B Line runs through our campus, on Commonwealth Avenue, and is a easy and inexpensive way to navigate the city. For a complete guide to using the subway system, including fare information and a map, please visit the MBTA website. If you are navigating campus, you might also consider using the BU Shuttle Bus. For bus stops and the schedule, please visit the website.  You may also consider renting a Blue Bike which are available at locations throughout the campus and around the city. A Blue Bike costs $2.95 for a 30 minute rental period. For more information, please visit the Blue Bike website.
Guide to Area Restaurants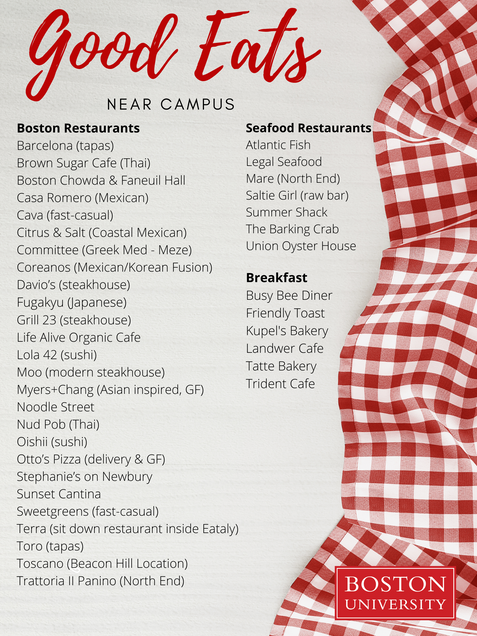 Guide to Visiting Boston