Woodward Interviewed on Facial Recognition Technology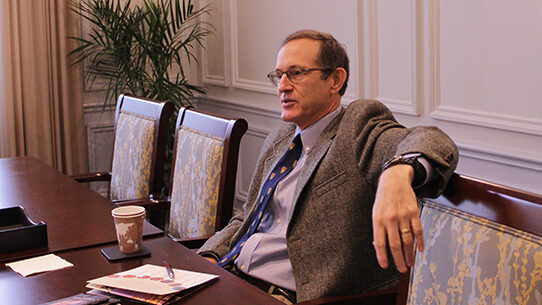 On May 3, 2023, John Woodward, Professor of the Practice of International Relations at the Frederick S. Pardee School of Global Studies, discusses New York City's proposed law to ban certain private sector use of facial recognition technology in a segment on Fox News.
Two bills have been introduced to prevent businesses and landlords from using controversial facial recognition software to identify tenants and customers. Professor Woodward believes facial recognition enhances security, but he says it must be regulated and transparent. In the segment, he states, "You run the risk of the technology being used in discriminatory ways," Woodward said. "Perhaps only certain types of people based on their race or ethnicity are targeted."  
Watch the full interview on the Fox News website.
John D. Woodward, Jr. is a former Central Intelligence Agency (CIA) officer. During his twenty-year CIA career, John served as an operations officer in the Clandestine Service and as a technical intelligence officer in the Directorate of Science and Technology, with assignments in Washington D.C., East Asia, Africa, South Asia, and the Middle East. His publications include Biometrics: Identity Assurance in the Information Age (McGraw-Hill, 2003) and Army Biometric Applications: Identifying and Addressing Sociocultural Concerns (RAND, 2001). Read more about Professor Woodward on his faculty profile.