Woodward Offers Remarks on US Storage of Iraqi Biometric Data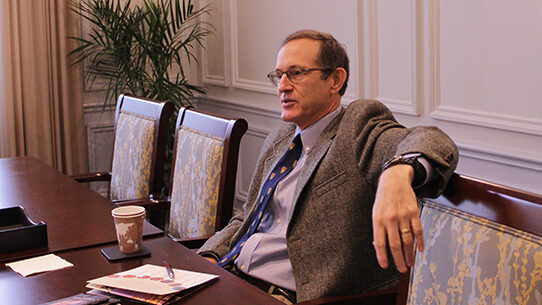 John D. Woodward Jr., Professor of the Practice of International Relations at the Frederick S. Pardee School of Global Studies, was interviewed by The Japan Times about the US Department of Defense's use and storage of biometric data from the Iraq War. 
In the article, titled "Why does the US still retrain the biometrics of millions of Iraqis?," Woodward discusses the US's use of biometric data to achieve 'identity dominance,' or being able to differentiate potential enemies and allies by keeping a person's identity in a military database. He explains that the Iraq War was the first time that biometric data was able to be used for intelligence purposes — and that its use was successful in that "it saved lives." While the US was involved in Iraq, it used its biometric data system to arrest targets in the region and stop potentially threatening people from entering military bases. The US maintains its biometric database today.
Read the full article here.
John D. Woodward, Jr. is a former Central Intelligence Agency (CIA) officer. During his twenty-year CIA career, John served as an operations officer in the Clandestine Service and as a technical intelligence officer in the Directorate of Science and Technology, with assignments in Washington D.C., East Asia, Africa, South Asia, and the Middle East. His publications include Biometrics: Identity Assurance in the Information Age (McGraw-Hill, 2003) and Army Biometric Applications: Identifying and Addressing Sociocultural Concerns (RAND, 2001). Read more about Professor Woodward on his faculty profile.