Georgia Nichols (MAIA ' 23) Recounts Her Field Research Experience in Vanuatu
The Frederick S. Pardee School of Global Studies' Gilman Travel Grant is the school's flagship opportunity for institutionally supported graduate student research. One Pardee School graduate student, Georgia Nichols (MAIA '23), recently took advantage of the travel grant in order to go travel to Vanuatu, interview key policy stakeholders, and gain valuable knowledge and experience that will enrich her final master's paper. We spoke with Georgia about her experience abroad, the opportunities made available to her through the Gilman Grant, as well as the key takeaways from her research journey.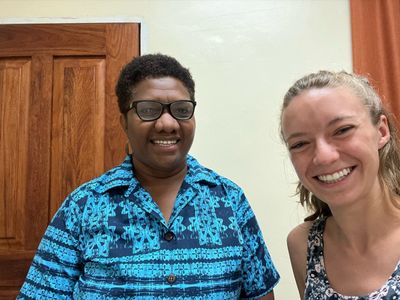 For her MA paper, Georgia is writing a policy proposal to the United States Secretary of State offering strategies that the U.S. can pursue to support South Pacific climate goals and in turn strengthen U.S.-South Pacific relations using Vanuatu as a case study. The Oceania country, where Georgia spent part of her early childhood, is the world's most at-risk nation for natural disasters, and its vulnerability continues to grow as the climate crisis worsens. She argues that there is a great opportunity for the U.S. to bolster ties in the region to tackle this global issue.
"The South Pacific's strategic geopolitical positioning will only grow in importance to the U.S., especially as China seeks to strengthen ties with the region," said Georgia. "As South Pacific nations face rising sea levels and loss of land, I hope to imagine ways in which the U.S. can contribute to their preservation and protection through a fortified partnership and transformed approaches to climate change."
Ultimately, her experience abroad was one Georgia recommended to all her fellow Pardee School students. In offering her perspective and advice for interested students, she said:
I couldn't recommend it enough. My advice is to pursue academic research of geographical areas you might have a special connection to or that you yearn to visit – I think this can provide a lot of internal motivation and excitement when you're conducting that research, whether it is on-campus or abroad, as well as when you're applying for the program. I enjoy studying Vanuatu because it helps me feel closer to my family members who live abroad, and getting to visit it with specific research goals was incredibly fulfilling. I would also suggest working closely with your advisor on your research plan, as their guidance can greatly enhance your research experience abroad.
If you are interested in taking charge of your research and travel while at the Pardee School, the Gilman Travel Grant is a great resource. As Georgia put it, it provided the avenue for her to realistically pursue her global research and opened her eyes to unique perspectives that will inform her work. "The grant allowed me to customize my travel plan, and prioritize what I would really need while in Vanuatu, a developing country (ex. Renting a car since there is no official public transportation). It is really important to me to reflect on the genuine climate interests and needs in Vanuatu, and the experts I interviewed provided me invaluable insights that have already transformed my initial approach to my policy paper. None of this would have been possible without the support of the Gilman grant, and I am endlessly thankful for such an incredible opportunity."
Supporting student research like Georgia's is a point of pride for the Pardee School, and we encourage our students to pursue every opportunity afforded to them in their time at BU. If you are interested in undertaking your own global research, visit the Pardee School's Travel Grants page for detailed information on grant opportunities and resources. There are grant options for both graduate and undergraduate students. If you or someone you know is interested in sharing their Pardee School global research story, please contact Pardee School Communications Specialist Andrew Luckett.