Najam Speaks at International Institute of Systems Analysis Conference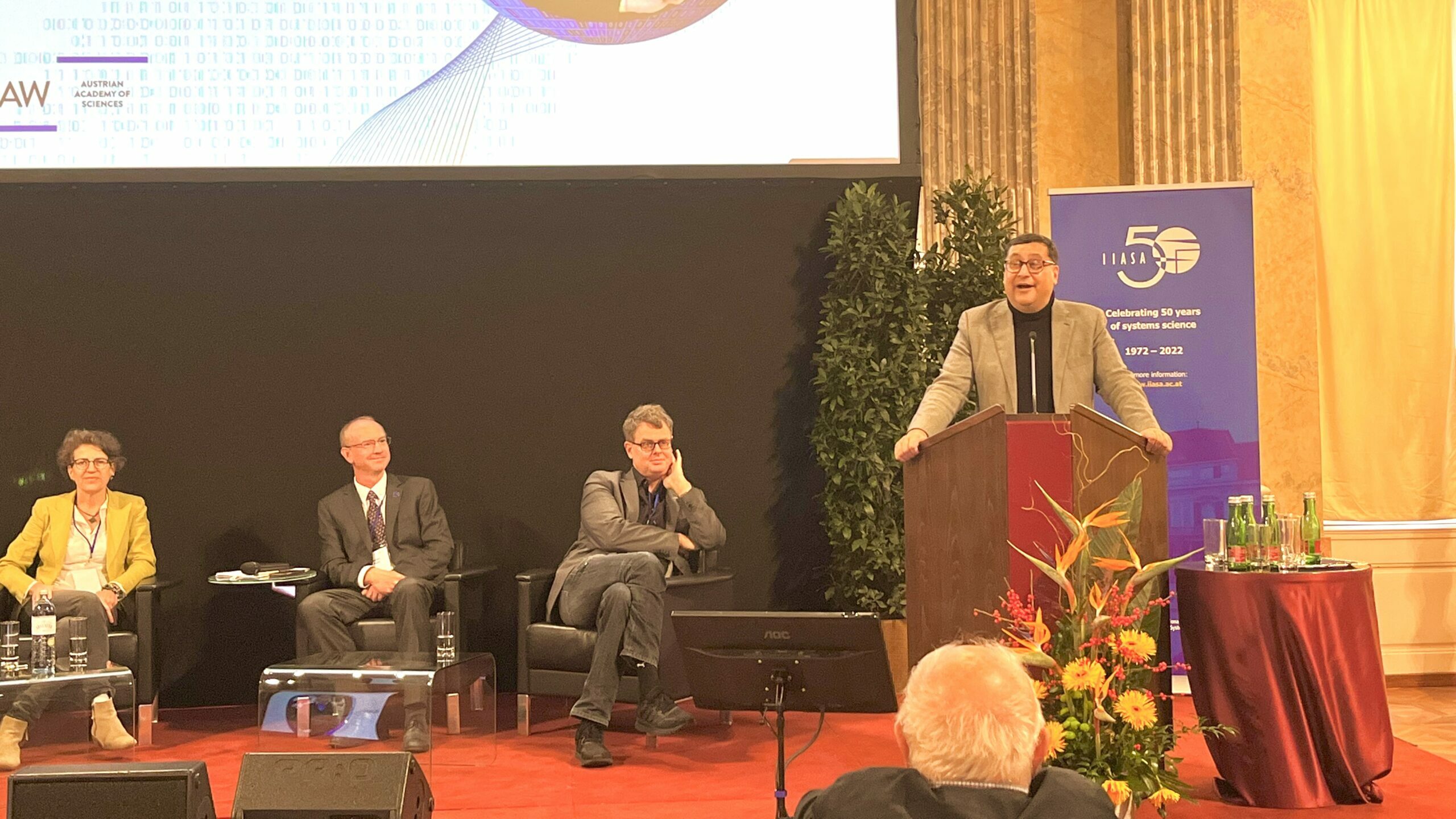 On November 17, 2022, Adil Najam, Dean Emeritus and Professor of International Relations and Earth and Environment at Boston University's Frederick S. Pardee School of Global Studies, was invited to speak at the 50th-anniversary conference of the International Institute for Applied Systems Analysis (IIASA), held at the Austrian Academy of Sciences in Vienna, Austria.
Najam spoke at the IIASA's "Systems Analysis for Reducing Footprints and Enhancing Resilience" conference, which explored the challenges and opportunities for Systems Analysis as a field of study and of practice. He argued that in a highly turbulent and quickly changing world, the need for good system analysis is greater than ever before but also that what is needed from Systems Analysis has changed. Najam called on systems science scholars to be 'more restless, more irreverent, and more bold' in their analysis, especially on the human and justice aspects of the complex system changes happening around us. The field has matured greatly over the last half-century according to Najam, but he said it is now a time to focus not only on understanding complex systems but directly tackling the challenges of how to make their management better and more just in an increasingly divided world.
Najam was recently elected the President of the Friends of IIASA in the United States, a gathering of friends and alumni of the Institute. He previously served as a young researcher as well as a Council Member of IIASA. IIASA is an international research institute, based in Vienna, that advances systems analysis and applies its research methods to identify policy solutions to reduce human footprints, enhance the resilience of natural and socioeconomic systems, and help achieve Sustainable Development Goals. To learn more, visit IIASA's website.
Adil Najam is a global public policy expert who served as the Inaugural Dean of the Frederick S. Pardee School of Global Studies at Boston University and was the former Vice-Chancellor of the Lahore University of Management Sciences (LUMS). His research focuses on issues of global public policy, especially those related to global climate change, South Asia, Muslim countries, environment and development, and human development. Read more about Professor Najam on his faculty profile.