Mako Participates in Conference on Iraq, Its Challenges, and Future Opportunities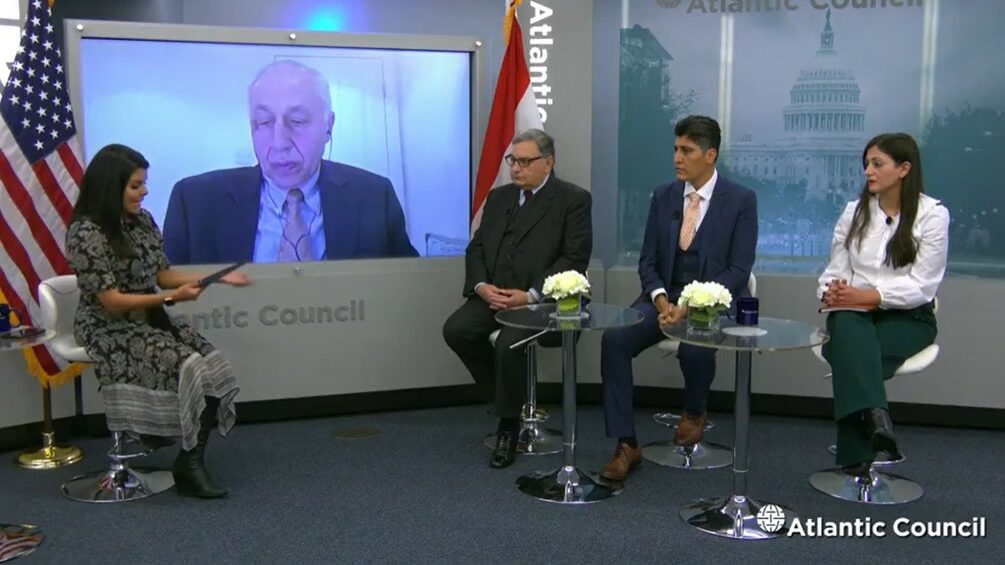 On October 26, 2022, Shamiran Mako, Assistant Professor of International Relations at Boston University's Frederick S. Pardee School of Global Studies, participated in a conference hosted by the Atlantic Council's Iraq Initiative on Iraq, its evolution over the past two decades, and its democratic transition. 
The two-day conference, titled "Turmoil and transition: Iraq twenty years after the invasion," explored Iraq's past two decades of change and upheaval and the key challenges and opportunities confronting future generations in Iraq. Mako was joined on the panel by Feisal Al-Istrabadi, Founding Director of the Center for the Study of the Middle East and McRobbie Professor in Global Strategic Studies at Indiana University, Bloomington; Laith Kubba, an independent advisor on Iraq; as well as Sarkawt Shamsuddin, a former member of Iraqi Parliament. The session, titled "Iraq's democratic experience," was moderated by Wall Street Journal reporter Vivian Salama.
During the session, panelists discussed the political instability in Iraq, the country's new government headed by Prime Minister Mohammed Shia' al-Sudani, and the challenges ahead for both the country's leaders and its people. Mako argues that one of the biggest challenges facing the new government is instilling a sense of confidence in the Iraqi populace, which she argues can only be accomplished by entrenching much-needed institutional reforms and engaging in more conciliatory politics, even when there are many strategic alliances. Unfortunately, the speakers noted that the political system in Iraq remains corrupt and dysfunctional meaning reforms will be difficult. Mako stressed that Iraq was not a functioning democracy; it was always an elite game in terms of how government operates. 
The full panel can be viewed below.
Shamiran Mako is an assistant professor of international relations at the Pardee School of Global Studies at Boston University. She is also a member of the Graduate Faculty at the Political Science Department at Boston University. Her research explores the historical and contemporary drivers of inter and intra-state conflicts that produce weak and fragile states across the MENA region. She is the author of After the Uprisings: Progress and Stagnation in the Middle East and North Africa, with Valentine Moghadam. Read more about Professor Mako on her faculty profile.