ASC Hosts Panel on LGBTQIA+ Advocacy in African Continent and Diaspora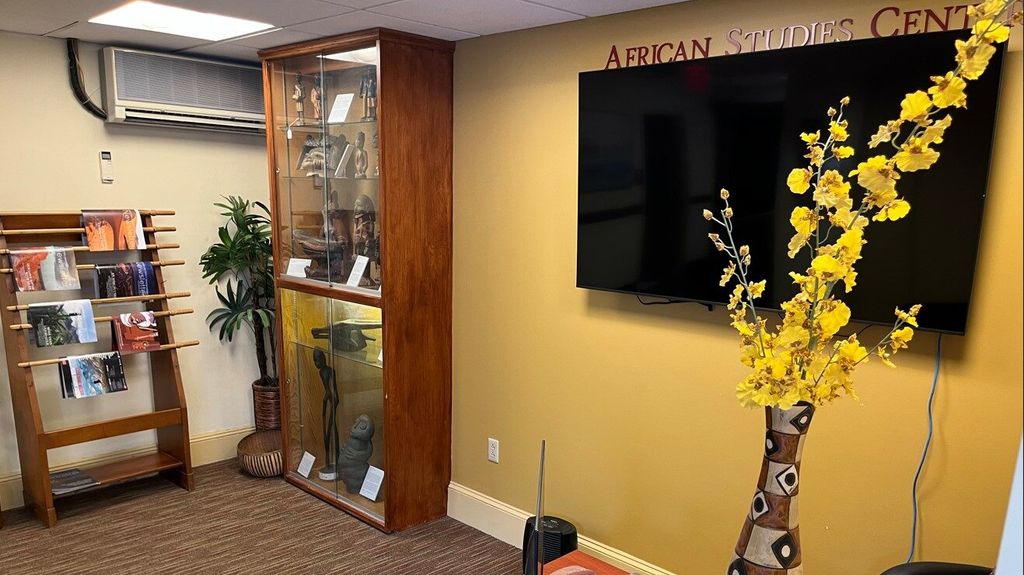 On October 19, 2022, the African Studies Center (ASC), an affiliated center of Boston University's Frederick S. Pardee School of Global Studies, hosted a panel discussion featuring activists and scholars involved in activism and organizing around LGBTQIA+ communities and rights across the African continent and diaspora. 
The event, titled "LGBTQIA+ Activism in Africa and the Diaspora: Transnational Perspectives on Community and Solidarity," featured Dr. Wunpini Fatimata Mohammed, Assistant Professor, Entertainment & Media Studies at the University of Georgia;  Paris-based Moroccan author and filmmaker Abdellah Taïa; and Mumbi Kanyogo, Strategic Communications Advisor at Well Made Strategy. Rev. Dr. Kapya John Kaoma, Visiting Researcher at BU's Center for Global Christianity and Mission, served as moderator. Panelists addressed questions about common misconceptions about LGBTQIA+ experiences, what solidarity looks like, and how activists and scholars in the Global North may engage with LGBTQIA+ communities and movements in ways that do not reproduce the imperialist gaze or a universalist perspective. They drew on their experiences organizing with communities in Ghana, Morocco, Kenya, Zambia, and beyond.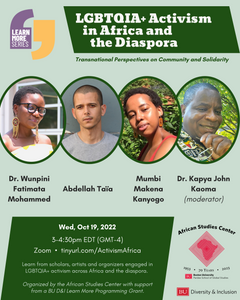 All the speakers commented on how the institutional mechanisms – legal, organizational, or societal – have impacted the perception of LGBTQIA+ populations across Africa and the African diaspora and thus made collaboration and advocacy more difficult. For example, despite the fact that manyLGBTQIA+ people face poverty or housing insecurity, popular narratives often cast them as rich. These kinds of ill-informed misconceptions impact the communities ability to get resources to the people who need them most. Panelists also noted that queer rights interventions often serve as proxies for liberal and conservative interest groups, and how limited a strictly legal and penal lens may be in advocating for the trans community especially.
The ASC event was organized as part of the BU Diversity and Inclusion (D&I) office's "Learn More Series." Each year, the "Learn More Series" investigates a single topic of social importance; it is intended to continuously spark new learning, catalyze important conversations among students, staff, and faculty, and supply our community members with the tools to turn theory into action. This year, we are exploring the many facets of LGBTQIA+ community, culture, identity, experiences, and history. Learn more about the series and other upcoming events on the BU D&I website. 
Founded in 1953, BU's ASC has provided a strong foundation in African studies to generations of university professors, economists, health workers, government officials, development personnel, diplomats, and numerous others. Learn more on the ASC website.