Gallagher Awarded Inaugural Adil Najam Prize for Advancing the Public Understanding of Global Affairs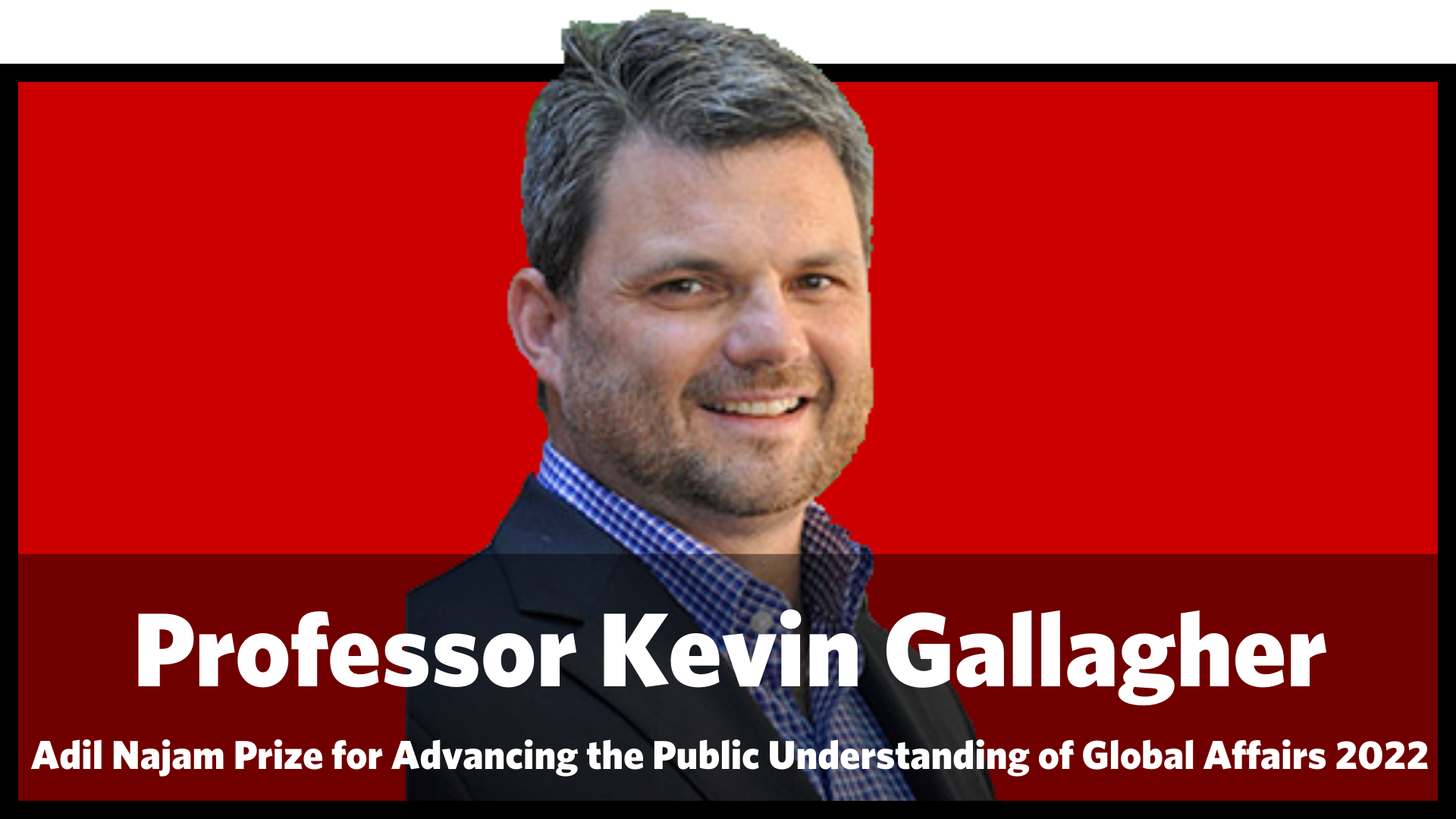 Kevin Gallagher, Professor of Global Development Policy at Boston University's Frederick S. Pardee School of Global Studies and Director of BU's Global Development Policy Center (GDP Center), has been awarded the Pardee School's 2022 Adil Najam Prize and Fellowship for Advancing the Public Understanding of Global Affairs. The award was presented during the School's 2022 convocation ceremony, which took place on May 21, 2022. 
The Adil Najam Prize was established in 2022 thanks to a generous endowment established by the Pardee School Dean's Advisory Board and its Chair Ruth Moorman (CAS'88, WheelockG'89, '09, Par BUA'15) to honor the contributions of the School's Inaugural Dean, Adil Najam. The Adil Najam Prize is to be awarded annually to a Pardee School faculty member for excellence as a global public scholar and for advancing the public understanding of any international policy issue of major importance in world affairs. The faculty winner of the Prize will then award the accompanying Fellowship to a Pardee School Masters' student (or undergraduate senior) to assist in their research in the following year. 
By the time he joined the BU faculty of what is now the Pardee School in 2004, Gallagher was already on his way to becoming a recognized public voice on sustainable development in the context of NAFTA and on foreign investment in Latin America. Soon, became a familiar figure on the opinion pages of the most respected newspapers on multiple continents, on television screens explaining the intricacies of the international political economy, and in the halls of major international organizations calling for a more just and sustainable international economic order. Today, he is counted amongst the world's most prominent public intellectuals calling for the reform of the institutions of global economic governance.
"Kevin has demonstrated what it means to be a public scholar of international affairs with a consistency of purpose, with intellectual integrity, with great personal dignity, and often with a dose of good humor," said Pardee School Dean Adil Najam in imparting this award. "His career exemplifies the very essence of this award's purpose, and he has set a high bar for those who will follow him."
The presentation of the 2022 Adil Najam Prize can be viewed below.
Kevin Gallagher is a professor of global development policy at Boston University's Frederick S. Pardee School of Global Studies, where he directs the Global Development Policy Center. He is the author or co-author of six books, including most recently, The China Triangle: Latin America's China Boom and the Fate of the Washington Consensus. Read more about Professor Gallagher on his Pardee School faculty profile.