Lori Speaks at Conferences, Gives Book Talks on Offshore Citizens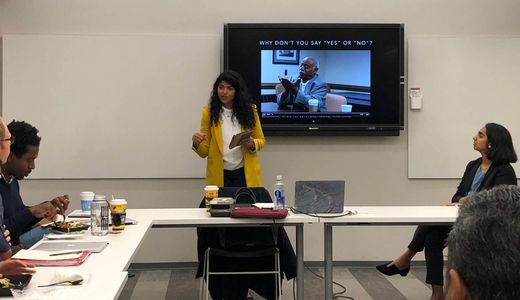 Noora Lori, Assistant Professor of International Relations at the Frederick S. Pardee School of Global Studies at Boston University, recently spoke on several panels at conferences and gave multiple talks about her recently published book  Offshore Citizens: Permanent Temporary Status in the Gulf (Cambridge University Press, 2019).
Lori spoke at a September 26-27, 2019 conference at Boston University on the "Role of the University in the Crisis of Forced displacement." At the conference she presented on a panel entitled "Technologies and Solutions: Ethically Appropriate Technology Development and the Place of STEM Fields in Teaching and Research on Forced Displacement"
On October 3, 2019, Lori gave a talk at the University of Alabama on Offshore Citizens organized by the Program for Middle East Studies and co-sponsored by the Department of Gender & Race Studies and the Department of Political Science.
Lori spoke as part of an October 14, 2019 panel at the University of Columbia School of International and Public Affairs on "Democratization and Citizenship" alongside Prof. Dipali Mukhopadhyay, Prof. Sheri Berman and Prof. Jack Synder for a Conceptual Foundations class.
On October 22, 2019 Lori gave another talk on Offshore Citizens at the Massachusetts Institute of Technology School of Urban Planning and Architecture as part of the IDG Development Seminars.
Lori attended the opening of a migration exhibit at the Institute of Contemporary Art in Boston on October 22, 2019 as a member of the advisory committee of the ICA's new exhibition on migration entitled "When Home Won't Let you Stay."
On November 13, 2019, Lori spoke on a panel hosted by Kilachand Honors College on "Passports and Documentation" where she discussed the outsourcing of passports, based on research from Offshore Citizens.
The Pardee Graduate Council (PGC), the official graduate student organization of the Pardee School, hosted Lori for a November 21, 2019 book talk on Offshore Citizens,
Lori gave a December 4, 2019 talk on Offshore Citizens entitled "Permanently Temporary: The Politics of Waiting for Citizenship," hosted by the Brandeis University  Crown Center for Middle East Studies.
On December 12-13, Lori spoke as part of the Migration and Refugee Law Workshop at the University of California, Berkeley School of Law where she presented her current research project "Urban Refuge: Access to Information and Access to Aid for Refugees in Cities."
Noora Lori's research broadly focuses on the political economy of migration, the development of security institutions and international migration control, and the establishment and growth of national identity systems. She is particularly interested in the study of temporary worker programs and racial hierarchies in comparative perspective. Regionally, her work examines the shifting population movements accompanying state formation in the Persian Gulf, expanding the study of Middle East politics to include historic and new connections with East Africa and the Indian subcontinent. Lori is the Founding Director of the Pardee School Initiative on Forced Migration and Human Trafficking.