Martin Delivers 2019 Kleh Distinguished Lecture
November 22, 2019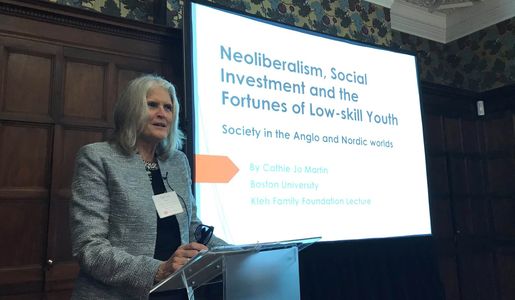 Cathie Jo Martin, Director of the Center for the Study of Europe at the Frederick S. Pardee School of Global Studies and Professor of Political Science at Boston University, delivered the 2019 Kleh Family Foundation Distinguished Lecture on November 21, 2019 at the Boston University London Centre.
Martin delivered a lecture on "Neoliberalism, Social Investment, and the Fortunes of Low-skill Youth: Literary Memes from the Anglo and Nordic Worlds." The lecture was followed by a lively question-and-answer session with the audience.
This year's lecture was attended by a large number of BU's London-based alumni and guests including BU Provost and Chief Academic Officer Prof. Jean Morrison and Pardee School Dean Adil Najam
Held annually since 2001 in London, United Kingdom, this prestigious lecture series is made possible by the generosity of BU alum William Kleh, his wife Patty Kleh and the Kleh Family Foundation. The Kleh Distinguished Lecture brings some of the best and most innovative minds from the BU faculty to London to speak to BU's London-based alumni and guests. Past speakers who have been invited to deliver the Kleh Lecture have included Pardee School Dean Adil Najam,  Pardee School Professor Vivien Schmidt, Pardee School Professor Emeritus Andrew Bacevich, Prof. Kevin Outterson (BU Law School), Prof. Edward Damiano (BU College of Engineering), President Robert Brown, former Dean Tom Fiedler (BU College of Communication), Prof. Andre de Quadros (BU College of Fine Arts), and Prof. Elie Wiesel (BU College of Arts and Sciences), amongst others.
Cathie Jo Martin is professor of Political Science at Boston University and former chair of the Council for European Studies. Her most recent book, The Political Construction of Business Interests: Coordination, Growth and Equality (co-authored with Duane Swank, Cambridge University Press 2012) investigates the origins of coordinated capitalism and the circumstances under which employers are persuaded to endorse social policies promoting economic productivity and social solidarity.