Garcevic Speaks on Panel on NATO, Turkey, and the Western Balkans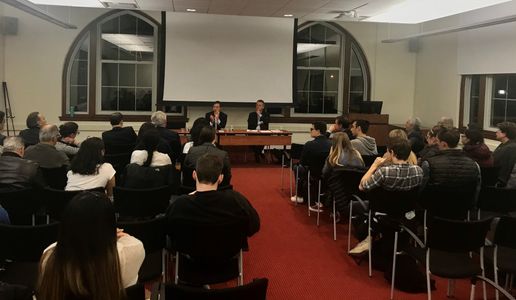 Ambassador Vesko Garcevic, Professor of the Practice of International Relations at the Frederick S. Pardee School of Global Studies at Boston University, spoke at a November 14, 2019 panel discussion hosted by the Institute of Eastern Mediterranean Studies at Emmanuel College on "NATO , Turkey and the Western Balkans."
The discussion, part of a lecture series on the geopolitics of displacement and belonging in the Eastern Mediterranean, also featured former Deputy Assistant Secretary of State Hoyt Yee who also spoke as part of the Pardee School's Beyond the Headlines series on November 15, 2019. 
The discussion covered a range of topics including how Turkey remains a major NATO ally and a key country for the geopolitical balance in the Middle East at the same time that NATO and Turkey have recently been going through a difficult time.
The panel also explored the motive to discuss relations between Turkey and NATO as not only the ongoing military operation in Northern Syria but Ankara's acquisition of the Russian defense missile system S-400 and intent to buy the Russian fighter jets SU-57 and SU-35. 
Garcevic and Yee also discussed the recent visit of Turkish President Recep Tayyip Erdogan to the United States and whether the visit has confirmed an existing difference between other allies and Ankara.
Other topics discussed during the panel included French President Emmanuel Macron's recent statement about NATO; U.S. President Donald Trump's misunderstanding of the NATO alliance; the problem facing European allies with defense spending; and how the Turkish intervention against the warning of its NATO allies raises fundamental questions regarding the reliability of the allies and the purpose, strength, and longevity of the NATO alliance.
During his diplomatic career, Amb. Vesko Garcevic dealt with issues pertinent to European security and NATO for almost 14 years. In 2004, he was posted in Vienna to serve as Ambassador to Organization for Security and Cooperation in Europe. He had been a Montenegro's Ambassador to NATO from 2010 until 2014 and served as a Montenegro's National Coordinator for NATO from 2015 until he joined the faculty at the Pardee School.