Beyond the Headlines: Energy Security in the EU
November 15, 2019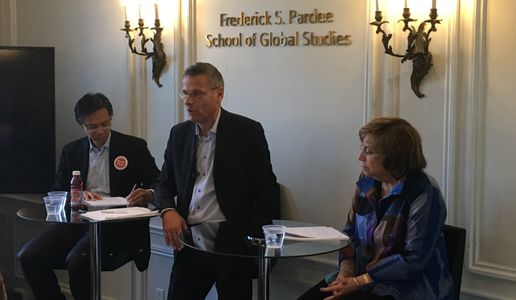 The Beyond the Headlines @BUPardeeSchool, or BtH, series at the Frederick S. Pardee School of Global Studies at Boston University continued on November 15, 2019 with a panel discussion on energy security in the European Union. 
The discussion, entitled "Energy Security in the EU: Challenges From the East," featured Hoyt Brayan Yee, Former Deputy Assistant Secretary for European and Eurasian Affairs at the U.S. State Department; and Carol R. Saivetz, Senior Advisor at the MIT Security Studies Program and Research Associate at the Davis Center for Russian and Eurasian Studies and Ukrainian Research Institute at Harvard University. The discussion was moderated by Amb. Vesko Garcevic, Pardee School Professor of the Practice of International Relations.
You can watch the entire discussion below:
Beyond the Headlines is a regular series at the Frederick S. Pardee School of Global Studies which seeks to cultivate informed conversations among experts and practitioners on issues that are currently in the news headlines, but to do so with a focus on intellectual analysis and on longer-range trends. Recent Beyond the Headlines discussions have focused on topics including Brexit, International Women's Day, Russia-US relations, and the crisis in Kashmir.