CURA Colloquium: Populist Religious Rhetoric in Europe
November 12, 2019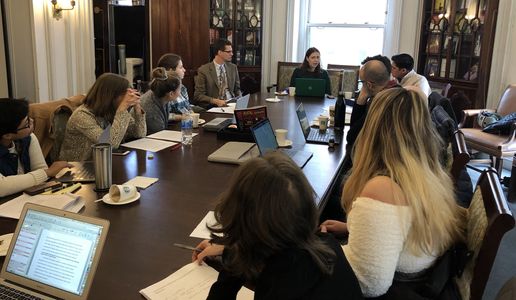 The Institute on Culture, Religion and World Affairs (CURA), an affiliated regional studies center of the Frederick S. Pardee School of Global Studies at Boston University, hosted a talk with Emma Rosenberg, PhD Student in Political Science at the University of Notre Dame, on November 8, 2019 as part of their 2019-2020 Colloquium on Religion and World Affairs.
Rosenberg gave a talk entitled "Right-Wing Populist Religious Rhetoric in Central Europe," which explored why, in the context of declining religiosity in Central Europe, right-wing populist parties use religious rhetoric. Further, she explored what role religious history plays in explaining variation in and distribution of this religious rhetoric.
More specifically, Rosenberg examined whether historic instances of the conflation of religious and national identities lead to more pro-Christian political rhetoric, and whether instances of historical political marginalization of religious minorities lead to more contemporary anti-Muslim or anti-Jewish rhetoric.
CURA hosts a yearly interdisciplinary Colloquium on Religion and World Affairs, in cooperation with the BU School of Theology. The Colloquium meets bimonthly throughout the academic year to discuss working papers on the chosen theme, either written by CURA Fellows or invited scholars from outside BU. CURA Fellows are selected from across the BU community during a competitive application period every spring. The Colloquium sessions are open to the general public, but all attendees are expected to read the papers in advance. The sessions focus on providing feedback and suggestions to the authors. Authors do not make a formal presentation but are able to engage with the audience and answer questions after the papers are discussed.
The theme for the 2019-2020 colloquium is "Religion and Identity." The working papers will explore the ways in which religion creates, shapes, and interacts with individual and social identities. We welcome work that explores specifically religious identity as race, gender, sexuality, and nationality.