Gallagher in FT on the IMF and Argentina
October 28, 2019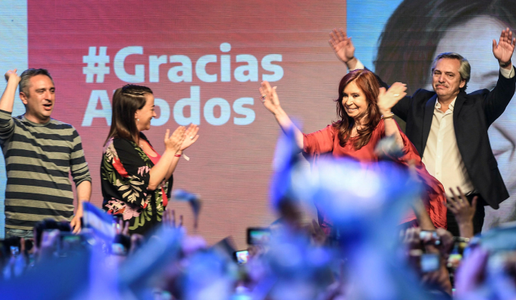 Kevin Gallagher, Director of the Global Development Policy (GDP) Center and Professor of Global Development Policy at the Frederick S. Pardee School of Global Studies, co-wrote a recent Op-Ed on the victory of Alberto Fernández and his running mate, former president Cristina Fernández de Kirchner, in Argentina's recent election and what this outcome means for country's economy. 
Gallagher's Op-Ed, entitled "The IMF's Second Chance in Argentina," was published in the Financial Times on October 28, 2019. 
From the text of the article:
Alberto Fernández and his running mate, former president Cristina Fernández de Kirchner, have won the election in Argentina amid a real danger that the country's economy will collapse.

Outgoing president Mauricio Macri and the transitioning Mr Fernández should work closely with the IMF to put the fragile economy back on a path to stability and sustainable growth.

As has been noted in the FT, the Fernández team will inherit an economy in significantly worse shape than when Cristina Fernández, who is no relation of the new president, left office a few years ago.

She left a large public deficit and rising inflation to her successor, Mr Macri. His policy response was to deregulate cross-border financial flows, raise interest rates and go on an external borrowing spree. Foreign reserves increased significantly, but capital flight continued.
Gallagher serves on the United Nations' Committee for Development Policy and co-chairs the T-20 Task Force on International Financial Architecture at the G-20. He previously served on the investment sub-committee of the Advisory Committee on International Economic Policy at the US Department of State and on the National Advisory Committee at the Environmental Protection Agency.   Gallagher has been a visiting or adjunct professor at the Paul Nitze School of Advanced International Studies at Johns Hopkins University, the Fletcher School of Law and Diplomacy at Tufts University; El Colegio de Mexico in Mexico; Tsinghua University in China, and the Center for State and Society in Argentina. Follow him on Twitter @KevinPGallagher.