GDP Center Hosts Open House, Launches Human Capital Initiative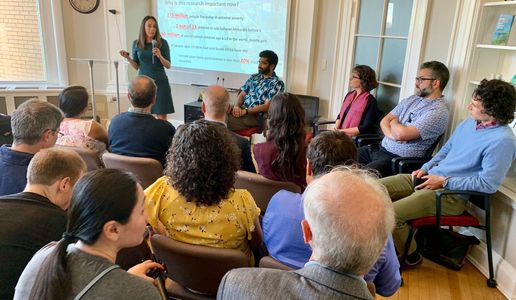 The Global Development Policy (GDP) Center, an affiliated center of the Frederick S. Pardee School of Global Studies at Boston University, hosted an open house on September 20, 2019 where the center officially launched its Human Capital Initiative (HCI).
The Human Capital Initiative brings together interdisciplinary policy-oriented research that focuses on the role of human capital in shaping the social, political and economic opportunities of individuals and communities in low- and middle-income settings around the world.
At the open house, the GDP Center community heard from HCI core faculty including Pardee School faculty members Rachel Brule, Assistant Professor of Global Development Policy, and Mahesh Karra, Assistant Professor of Global Development Policy.
Thank you to all who were able to join us for our open house launching our Human Capital Initiative on Friday evening. It was a full house including folks live-streaming from around the world! Please see the recording & learn more about #HCIatBU here: https://t.co/13FJ05fgX4 pic.twitter.com/FgkLwOz2Nc

— GDPCenter (@GDPC_BU) September 23, 2019
Researchers from the HCI team focus on three main areas:
Research that has been generated through HCI has served to inform policy in Sub-Saharan Africa, South and Southeast Asia, the Middle East, and Latin America. In the past academic year, the HCI team has published 31 working papers, journal articles, and reports with 10 as part of the HCI working paper series.
The GDP Center is a university-wide research center in partnership with the Office of the Vice President and Associate Provost for Research and the Frederick S. Pardee School of Global Studies. The GDP Center's mission is to advance policy-oriented research for financial stability, human well-being, and environmental sustainability.