Greenwald Speaks at Harvard on the Future of the U.S. Dollar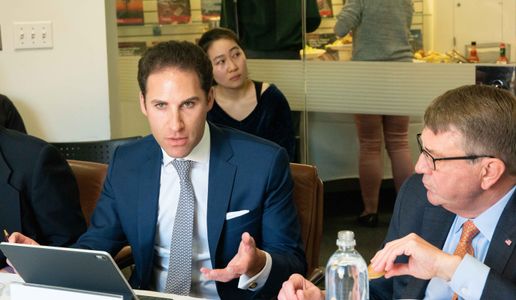 Michael B. Greenwald (Pardee '07), Lecturer at the Frederick S. Pardee School of Global Studies at Boston University, led an April 11, 2019 discussion  at Harvard Kennedy School Belfer Center on "The Future of the United States Dollar and the Future of Financial Warfare" with former United States Defense Secretary and head of the Harvard Belfer Center Ash Carter.
Greenwald discussed the Treasury's ability to craft and implement economic sanctions is ultimately premised on the central role of both the U.S. dollar and the American banking system in the global economy. While foreign central banks are accumulating fewer Treasuries than in the past, the dollar's use of international transactions has grown in recent post-crisis history by a non-negligible margin, according to Greenwald.
Amidst the Eurozone's imperfect currency union and the RMB's underdeveloped capital markets, the dollar's central role will likely continue over the near to medium term. Against this backdrop, nations have already begun adjusting to Washington's tools, ranging from using central banks to immunize transactions from sanctions to leveraging bilateral lending as a tool of their own economic statecraft strategies, Greenwald said.
Moving forward, according to Greenwald, it is essential the Treasury effectively deals with the slew of new geoeconomic threats to both financial and national security, while also reducing the collateral effects of sanctions on law-abiding stakeholders, who profit, enrich, and deepen the international financial system.
Michael B. Greenwald is currently a Senior Vice President of Tiedemann Advisors and is responsible for working with clients and prospective clients and assisting with the Firm's business development efforts. Michael is also the Senior Advisor to the President and CEO Fred Kempe of the Atlantic Council. Learn more about him here.