Greenwald Speaks at Yale NROTC Leadership Conference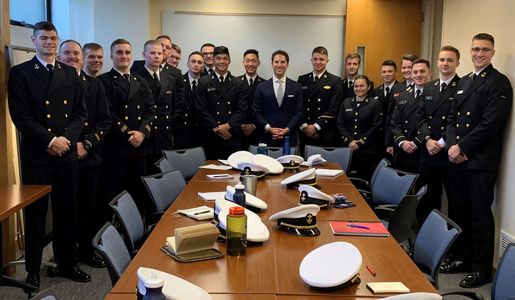 Michael B. Greenwald (Pardee '07), Lecturer at the Frederick S. Pardee School of Global Studies at Boston University, spoke to the Yale Naval Reserve Officers Training Corps at the 4th Yale NROTC Leadership Conference which was held from April 5-6, 2019.
At the conference, Greenwald led a discussion on "The Future of Financial Warfare and the Role of the U.S. Dollar."
The Yale NROTC Leadership Conference seeks to bring together leaders in their fields and students from universities around the country to discuss what role leadership has in a rapidly changing world and to allow for students to learn and improve upon leadership and character development. The Yale NROTC Leadership Conference is the premiere leadership conference in the Northeast and provides a unique forum to facilitate discussions amongst students, academics, and professionals from a wide variety of backgrounds and fields regarding relevant topics in leadership and the military. The conference is run and sponsored by the Yale NROTC Undergraduate Association, an organization run by Yale College students. 
Michael B. Greenwald is currently a Senior Vice President of Tiedemann Advisors and is responsible for working with clients and prospective clients and assisting with the Firm's business development efforts. Michael is also the Senior Advisor to the President and CEO Fred Kempe of the Atlantic Council. Learn more about him here.