Greenwald Speaks at Monterey Threat Finance Forum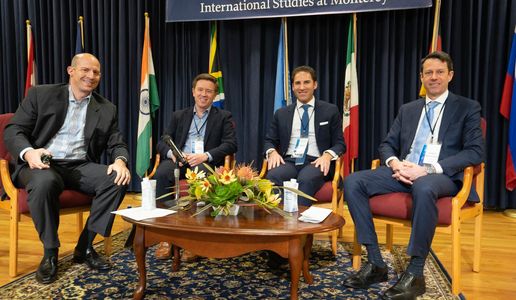 Michael B. Greenwald (Pardee '07), Lecturer at the Frederick S. Pardee School of Global Studies at Boston University, spoke at the Monterey Threat Finance Forum sponsored by Middlebury International Studies on March 21, 2019. 
Greenwald spoke as part of a panel entitled "Sanctioning Non-State Actors," with Robert 'Hagan' Barnett, Treasury/OFAC and the U.S. Department of State, and Andrew Weinschenk, U.S. Department of State.
This panel, comprised of high-ranking employees from State and Treasury, the two competent authorities for terrorism related sanctions, highlighted the role each agency plays in carrying out sanctions against terrorist entities. Greenwald, the former U.S. Treasury Attaché in Doha, Qatar, focused on the work of attaches overseas and how the U.S. government works with foreign counterparts to cut off terrorist access to the international financial system.
Michael B. Greenwald is currently a Senior Vice President of Tiedemann Advisors and is responsible for working with clients and prospective clients and assisting with the Firm's business development efforts. Michael is also the Senior Advisor to the President and CEO Fred Kempe of the Atlantic Council. Learn more about him here.