James Gives Talk on China and the U.S. Defense Supply Chain
October 6, 2017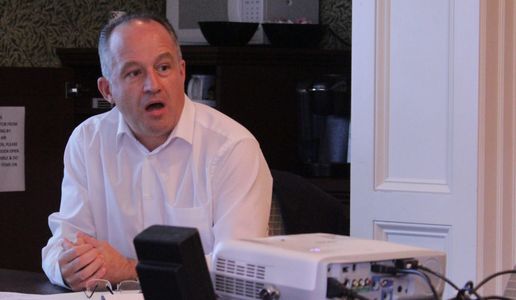 The Project on the Political Economy of Security, a research initiative at the Frederick S. Pardee School of Global Studies at Boston University, hosted an October 6, 2017 talk with Professor Andrew James, Director of Engagement of the Manchester Institute of Innovation Research and Associate Dean of Business Engagement and External Relations for the Alliance Manchester Business School. 
James delivered a presentation entitled "Assessing the Link Between Dependence and Vulnerability: China in the U.S. Defense Supply Chain."
James said that weapons systems are increasingly dependent on high-tech electronics, that the globalization of the high-tech electronics industry has made China a major supplier of key electronic components, and that it is reasonable to think that Chinese facilities are in the U.S. defense supply chain. 
According to James, the United States balances dependence and vulnerability in developing weapons and other security measures. Businesses and governments both have incentives to manage supply-chain risk and can do so by diversifying suppliers, creating domestic production capabilities and modifying weapons designs to remove the need for foreign materials and components.
The Project on the Political Economy of Security was founded in 2014 to advance academic and policy-relevant knowledge regarding the intersection of economics and security. The domain of political economy of security encompasses those studies that link political economy and security studies. The project is co-directed by Kaija Schilde, Assistant Professor of International Relations at the Pardee School, and Rosella Cappella Zielinski, Assistant Professor of Political Science at Boston University.