Garcevic Speaks at Brown on Russia, the EU and NATO
October 6, 2017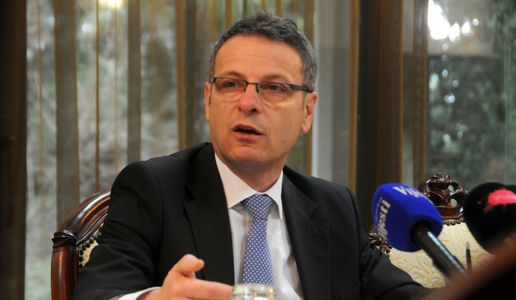 Amb. Vesko Garcevic, Professor of the Practice of Diplomacy and International Relations at the Frederick S.Pardee School of Global Studies at Boston University, spoke at the Watson Institute for International and Public Affairs at Brown University on October 4, 2017. 
Garcevic was invited by Stephen Kinzer, Senior Fellow in International and Public Affairs, to give a guest lecture on the Soviet Sphere of Influence in Eastern Europe and the Balkans as a consequence of the World War II. He also discussed discussed Russia's long-standing interest in this part of Europe, the soft power that Moscow uses to bring countries from the Balkans under its influence and the role of other powers in this part of Europe, including China.
The lecture also focused on how Russia's international posture has evolved over last 25 years from being a difficult, but constructive, partner to becoming an aspiring competitor by the end of the 2000s.
Garcevic then compared Soviet dominance of Eastern Europe to U.S. dominance of the Caribbean basin and Russia's current posture in its immediate neighborhood (Ukraine and Georgia). He also discussed whether NATO and EU enlargement contributed to peace and security in Europe, and Russia's stance concerning the enlargement.
During his diplomatic career, Amb. Vesko Garcevic dealt with issues pertinent to European security and NATO for almost 14 years. In 2004, he was posted in Vienna to serve as Ambassador to Organization for Security and Cooperation in Europe. He had been a Montenegro's Ambassador to NATO from 2010 until 2014 and served as a Montenegro's National Coordinator for NATO from 2015 until he joined the faculty at the Pardee School.