Najam, Sheahan Speak at Boston GreenFest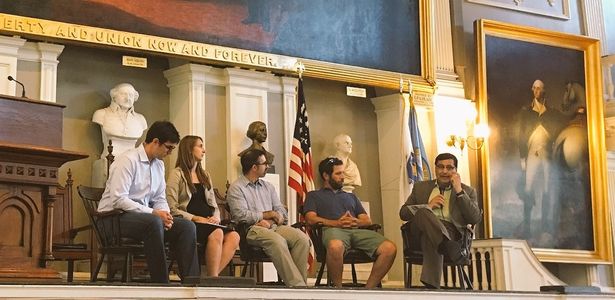 Adil Najam, Dean of the Frederick S. Pardee School of Global Studies at Boston University, and Megan Sheahan (Pardee '07) spoke as part of a panel at the August 13, 2017 Boston GreenFest at Faneuil Hall.
Boston GreenFest, celebrating its 10th anniversary this year, aims to educate and empower people to create a more sustainable, healthier world. From business to nonprofit, neighborhood association to academic institution, Boston GreenFest spans age, culture and industry.  This year the festival was zero waste, and included showcases of innovation, fashion, forums, films, cars, fitness classes and art.
Najam and Sheahan spoke as part of a panel entitled "Green Tech Trends," which focused on highlighting  the transformative impact of technology on agriculture and aquaculture, taking better care of our crops and animals, informing and engaging consumers, strengthening our societies, and radically rethinking how to feed the planet. Also speaking as part of the panel were Jared Auerbach, Owner & CEO, Red's Best, David Potere, co-founder and CEO of TellusLabs, Fernando Rodriguez-Villa, General Manager at TellusLabs, and Rory MacKean, Founder/CEO of Franklin Robotics.
Sheahan is the Director of Operations at Precision Agriculture for Development. Previously, she held research, research management, project management, and technical assistance roles at Cornell University, the Famine Early Warning Systems Network (FEWS NET), and Chemonics International and has worked as a consultant for various organizations, including the World Bank and African Development Bank. 
Adil Najam is the Inaugural Dean of the Frederick S. Pardee School of Global Studies and was a former Vice Chancellor of the Lahore University of Management Sciences in Pakistan. Najam's research focuses on issues of global public policy, especially those related to global climate change, South Asia, Muslim countries, environment and development, and human development.