Mudarri Initiative Hosts Panel on Positive Trends in Arab Societies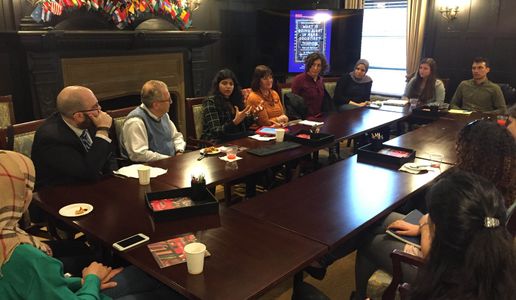 The Corinne Mudarri Arab Civilization Initiative at the Frederick S. Pardee School of Global Studies at Boston University hosted an April 27, 2017 panel that examined positive trends in modern Arab societies as well as what can be done to enhance these trends. 
The Mudarri Initiative is designed to support thoughtful and wide-reaching programming and curricular innovation that explores and promotes the many contributions of Arab civilization, culture and society, including, but not limited to, innovations such as mathematics, science, medicine, philosophy, language, art, architecture and horticulture. The permanently endowed fund will provide support for annual student-focused activities, lectures and curricular innovation by faculty and is open to the entire BU community, and in some cases, to all BU friends and alumni throughout the Boston area.
The panel, entitled "What Is Going Right in Arab Societies?" included Cynthia Becker, Associate Professor at BU History of Art and Architecture; Azer Bestavros, Professor of Computer Science and Founding Director of the BU Hariri Institute for Computing and Jeffrey Karam, Visiting Researcher at the Crown Center for Middle East Studies at Brandeis University. Noora Lori, Assistant Professor of International Relations at the Pardee School, moderated the discussion. The panel follows an October 2016 event hosted through the Mudarri Initiative entitled "The Arab Golden Age: Why Then; Why Not Now?"
Lori emphasized the importance of examining positive trends in Arab Societies due to the fact that the focus of news reports and social science research in the Arab world is often inherently on problems in the region.
"The existing narrative is all about what is wrong," Lori said. "It's structural in the sense that the media is structured in a way to report things that go wrong — that's what we think of as news. It's also structural in the sense that social science is focused on problems. We have increasingly sophisticated methods for talking about why problems occur, what causation might underlie them, what alternate explanations might cause a particular outcome. We're using that collective intellectual work to talk about problems, not solutions."
In looking at sources of hope and success in the Arab world, Bestavros discussed computer sciences and information technology. He suggested that while this may not be another 'Golden Age,' the latent innovativeness and entrepreneurship of Arab youth is finding expression in computer science because of the low barrier of entry into the field.
In his opening remarks, Karam focused on societal dynamics and also towards youth as a source of vitality in Arab societies. He pointed out that this has found expression in the uprisings that defined the 'Arab Spring', but the underlying dynamic can also be seen elsewhere. In particular, he pointed towards music – especially that being created by Arab youth – as a political and social expression of this new energy, ad of hope.
Becker, who has been travelling to Morocco since 1993 to conduct research on art history and culture,  discussed the positive changes she has witnessed in the country with regard to art and culture.
"When I first went there was a very oppressive monarchy. We were sort of followed as researchers, and there was not a whole lot of liberty or discussion about art, life and culture," Becker said. "He passed away in 1999, and there is a new monarch in Morocco and everything has changed. It's like a light switch has gone on, and the creativity is just exploding within Morrocco today."
Corinne Mudarri (DGE '51) is a retired American Airlines official, where she worked for 25 years. Since retiring, she has published a Massachusetts Almanac of Arab Americans and retains a deep interest in developing better understanding of Arab civilization, especially amongst the young. Earlier, she had also endowed the Nicholas and Eugenie Mudarri Family Student Exchange Fund at Boston Univeristy, in memory of her parents.