Najam on Capital TV on Trump vs. Courts
February 6, 2017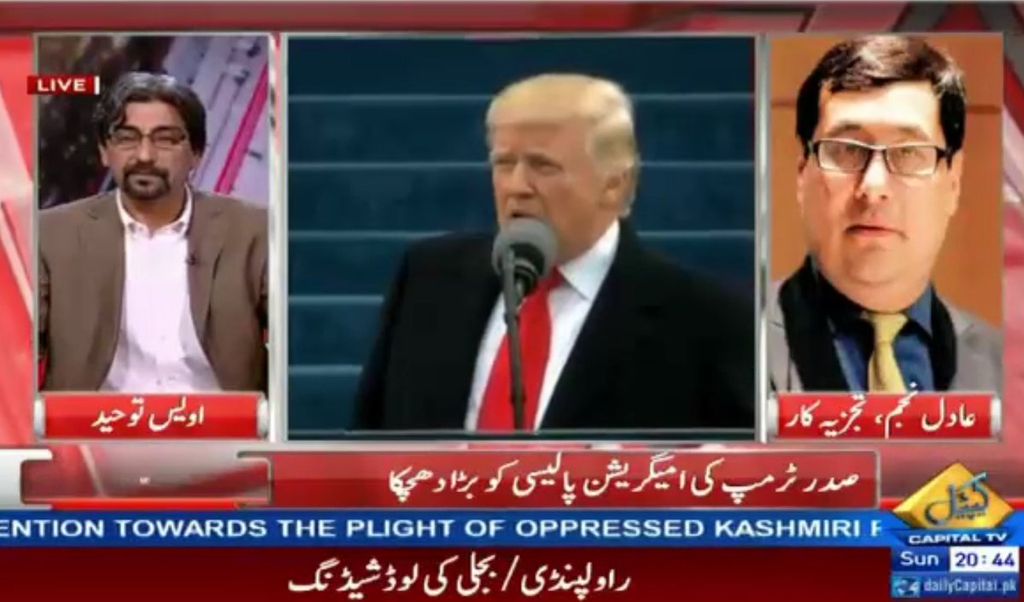 As the judicial system continues to grapple with, and push back on, President Donald Trump's executive order on immigration, the debate also continues on how the Trump presidency could eventually impact the US as well as the global political system. This debate is not only raging in the United States but in many other parts of the world. This debate was also the focus of a recent television discussion on Pakistan's Capital TV show CrossCheck with Owais Towhid (February 5, 2017) on with Prof. Adil Najam, Dean of the Frederick S. Pardee School of Global Studies at Boston University, was a guest.
Commenting on the ongoing saga of President Trump's immigration ban and the US judicial system's response to it, Dean Najam said that there should not be much surprise in the how the situation is unfolding and especially in President Trump's reactions to the court decisions. He argued that this was so because the political point that President Trump wanted to make to his supporters has already been made and the signal of a shift in US immigration policy already been sent. Now the real question is of how the US political system responds to his actions and how he reacts to the system. However, Najam said, we should remember that Donald Trump had been elected with the stated goal to bring down the American political "system" – as exemplified in his 'draining the swamp' slogan." And this is exactly what he has been doing.
Najam suggested that we should expect more battles between President Trump and the US political "establishment" and its "system" in the future. Also, we should expect the same at the global level, including at the United Nations.
A video of parts of the show with Adil Najam's comments can be seen below. The full discussion (in Urdu) can be viewed here.
My parting thought @OwaisTohid
on #Trump lessons:
Beware what you pray for,
lest your prayers are actually answered.pic.twitter.com/zMY4GISHRs

— Adil Najam (@AdilNajam) February 5, 2017
Prof. Adil Najam is the inaugural dean of the Pardee School of Global Studies at Boston University and was the former Vice Chancellor of the Lahore University of Management Sciences (LUMS) in Pakistan. His areas of academic expertise include issues related to global governance. More on him can be read here.