GEGI: Studart Gives Brazilian Perspective on World Bank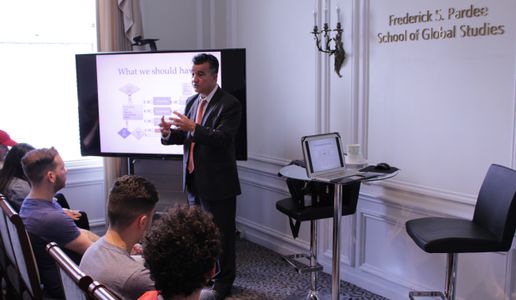 The Global Economic Governance Initiative, a research initiative at the Frederick S. Pardee School of Global Studies at Boston University, hosted a discussion with Senior Visiting Fellow Rogerio Studart who provided a Brazilian perspective on the election process and governance structure of the World Bank.
Studart is a prominent international economist who brings more than 30 years of experience as an international consultant and negotiator and as an expert on development finance issues. Previously he served as the Executive and Alternate Director to the World Bank Group, Executive Director at the Inter-American Development Bank and the Inter-American Investment Corporation.
Studart discussed the process of electing Jim Yong Kim as President of the World Bank in July 2012, and how developing countries attempted to foster discussion about the three candidates who were running for the position at the time.
"The 2012 election was extremely important because it was the first time that there was an election with candidates — more than one — for the position," Studart said. "Normally at the World Bank you only have one candidate who is appointed by the United States. In 2012 there were three people who ran for the position. I was part of that 2012 election and there a movement coming from developing countries trying to have a democratic discussion about the future of the institution."
Studart discussed the selection process in 2012 between Kim and the other two candidates for President of the World Bank — Finance Minister of Nigeria Ngozi Okonjo0 Iweala and Director of the Economic and Political Development Concentration at the School of International and Public Affairs and former Colombian Minister of Finance and Public Credit Jose Antonio Ocampo.
"It had a special meaning because for the first time it was relatively open and relatively transparent, but was it merit-based," Studart said. "Jim Kim is an extremely well-regarded man — he's a doctor, he went to a very strong university, he was the President of Dartmouth College and he had a career in developing countries — he was a guy who for the first time was not a banker or from the State Department. The developing countries did not just bring anyone into the discussion — we had highly qualified people."
According to Studart, some challenges facing the World Bank that still have not been addressed as of 2016 include financial tightening, loss of relevance in the face of new multilateral financial institutions like the NDB and AIIB, a failed  process of corporate reform and a lack of strategic vision.
Studart holds a Ph.D. in Economics from the University of London, England, with expertise in macroeconomics, development economics, and finance. His Ph.D. dissertation – published in 1995 by Routledge Editors, London – was awarded the Eichner Prize for best Ph.D. dissertation in monetary economics in the University of London. You can read more about him here.