Berger Gives Series of Talks on US-Japan Alliance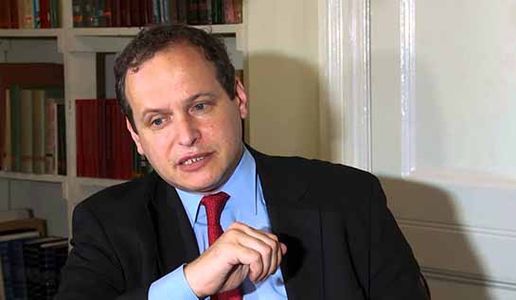 Thomas Berger, Professor of International Relations at the Frederick S. Pardee School of Global Studies at Boston University, has been busy this summer with talks and presentations on a range of topics including the alliance between Japan and the United States and Japanese nationalism and disputes over history and territory.
Berger delivered a presentation at the Workshop on Japan's Grand Strategic Choices in a Changing Asia at the Free University in Berlin on June 23, 2016. The workshop explored and articulated areas where Japan is pursuing its own independent interests as refracted through Tokyo's perceptions of a relative decline in U.S. capabilities and commitments to East Asia alongside a more assertive China. 
Berger's presentation at the workshop was entitled "Fifty Shades of Fear: Anxiety as a Factor in the US-Japan Alliance.
Earlier this summer, Berger gave a presentation entitled "East Asia on the Brink? The Arms Trade and Nationalism on Regional Security," with Jonathan Caverly of the Massachusetts Institute of Technology, at the Woodrow Wilson Center in Washington D.C.
Berger also gave a talk entitled "The Memory Trap: Japanese Nationalism and Disputes Over History and Territory," at the Council on Foreign Relations on May 23, 2016. During the talk, Berger explained his concept of the memory trap—the persistent yet evolving history debates that have limited diplomatic cooperation among the nations of northeast Asia.
Thomas Berger joined the Department of International Relations in 2001. Previously, he taught for seven years at the Johns Hopkins Department of Political Science in Baltimore. He is the author of War, Guilt and World Politics After World War II,  Cultures of Antimilitarism: National Security in Germany and Japan and is co-editor of Japan in International Politics: Beyond the Reactive State. You can read more about him here.