FMHT: Syrian Refugees and Turkey's Open Door Policy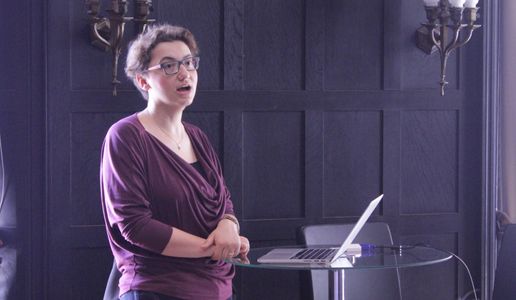 The Initiative on Forced Migration and Human Trafficking (FMHT), a research initiative at the Frederick S. Pardee School of Global Studies at Boston University, hosted an April 15, 2016 discussion on Turkey's policy toward Syrian refugees. 
The talk, entitled "Syrian Refugees and the Limits of Turkey's 'Open Door' Policy," was led by Dr. Cigdem Benam of Boston College, and focused on how Turkey opened its doors to refugees and in a couple of years became the number one refugee hosting country in the world — a surprising move since Turkey has not always been that welcoming towards mass refugee movements.
Benam discussed the sources and transformation of Turkey's policy towards Syrian refugees while questioning the sustainability of its 'open door' policy.
"Refugees are an issue, if you have to call them an issue, of the international society," Benam said. "One state might be hosting them but that doesn't mean the burden is going to be shouldered by that country. It requires international solidarity. The funny thing is Turkey didn't ask for any international help when the crisis erupted in 2012, it wasn't included in the UNHCR regional planning for 2012. That was clearly a sign they underestimated the scope of the crisis."
Benam also noted that while Turkey is hosting a more than 2 million Syrian refugees, the country is also harboring refugees from several other countries in the area.
"Turkey's now at the moment hosting 2.7 million Syrians, but it's not only the Syrians," Benam said. "You have other people coming from different countries — Afghanistan is a major refugee producing country, you have Iraq with the emergence of ISIS and all the instability there and a lot of Africans have been coming as a route for migration to Europe."
Benam said that challenges facing Turkey as a result of the refugee crisis include mobilizing international support, contributing to a political solution based on realism and diplomacy and the polarization of Turkish public opinion.