Counterterrorism Expert Speaks at Pardee School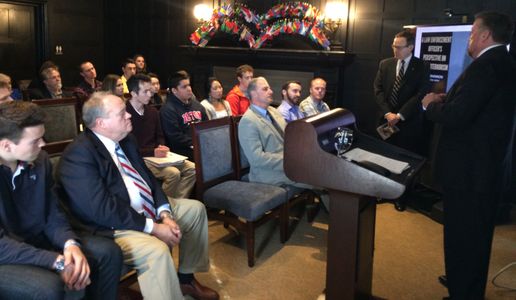 FBI Special Agent Paul Shannon visited the Frederick S. Pardee School of Global Studies at Boston University to meet with faculty and students on March 31 and April 1, 2016.
Shannon, a 29-year veteran of the Federal Bureau of Investigation, drew on his extensive international counterterrorism experiences to discuss how U.S. Government organizations adapted to the post-9/11 world. He related how he and other FBI officers deployed to Afghanistan in the aftermath of the 9/11 attacks and, working with the US military, began immediately fingerprinting and interviewing foreign fighters in custody.  This war zone investigative work led to, among other things, the identification of Mohamed Khatani, who the 9/11 Commission identified as the 20th hijacker.
In his presentation to faculty, staff, and students at the Pardee School, Shannon provided a policy making case study drawing on his  counterterrorism work during several tours in Iraq and Southwest Asia as well as a staff member on the Homeland Security Council.  He explained how the requirement for authoritative forensic identification combined with the recognition that terrorists are globally mobile and elusive led the Department of Defense and the Department of Homeland Security to change their business practices to take biometric data in a format compatible with the FBI's national database.
In attendance at Shannon's talk were Boston University Police Chief Tom Robbins, Boston University Police Deputy Chief Scott Pare and Harvard Police Director of Physical Security William Casey.
Shannon noted how this point was driven home to US Government leaders by metrics showing that a small, but not insignificant, number of foreigners detained and fingerprinted in Iraq and Afghanistan actually had prior US criminal arrest records.
Pare said hearing Shannon's firsthand experiences dealing with terrorists provided deep insight into how law enforcement keeps the United States safe.
"It was an honor to be invited to hear Agent Shannon speak at the Pardee School," Pare said. "Agent Shannon shared his first hand experiences abroad in dealing with terrorists.  He had some remarkable stories. His foresight and dedication will help keep this country more secure. It is always great to hear from individuals that work to keep not only our communities, but our country safe."
Shannon's visit was hosted by Professor John D. Woodward, Jr. who worked on biometric identification issues with Shannon in 2003.
"Paul's work in forensic identification in war zones significantly transformed the way the Department of Defense conducted counterterrorism work," Woodward said. "In sum, Paul brought CSI to the battlefield with proven results."
Shannon also spoke to students in Woodward's IR 516 course, Intelligence and Homeland Security, and was the guest speaker at a Pardee School working dinner that included Pardee School Professors Robert Loftis and Joseph Wippl, MET Professor Robert Cadigan, William Casey, a former Boston Police Dept and FBI official, Michael Krebs, an attorney at Nutter McClennen & Fish LLP and adjunct professor at BU Law, and Father Charles Gallagher, a professor at Boston College, and twelve Pardee School students.
Shannon concluded his visit with a Pardee Graduate Council(PGC)-hosted breakfast with interested students to discuss careers in law-enforcement and intelligence.
Jack Davidson, President of the PGC, said Shannon provided insight on how Pardee students academic work and interests could lead to a career with the FBI or other government agency.
"Mr. Shannon offered an incredibly interesting and down-to-Earth perspective on working for the FBI," Davidson said. "I think he really went out of his way to describe how FBI work can tie in to Pardee students' interests in international affairs, as well as enlightening us about what traits the agency might look for in hiring new individuals."