Dean Najam Participates in WEF Global Agenda Summit
As a member of the Global Agenda Council (GAC) on Climate Change, Prof. Adil Najam attended the annual World Economic Forum (WEF) GAC Summit, held in Abu Dhabi, Oct. 25-27. Adil Najam is the Dean of Boston University's Frederick S. Pardee School of Global Studies and a leading global expert on climate change policy and sustainable development in developing countries.
The World Economic Forum's Network of Global Agenda Councils is"the world's foremost interdisciplinary knowledge network dedicated to promoting innovative thinking on critical global issues, regions and industries, and incubating projects, campaigns and events for the public good. The Network convenes the most relevant and knowledgeable thought leaders from academia, government, business and civil society to challenge conventional thinking, develop new insights and create innovative solutions for key global challenges."
Members of the various Councils (or GACs) meet annually at a Summit meeting "to monitor trends, identify global risks, discuss ideas and explore interconnections between issues. They also develop recommendations and integrate findings into World Economic Forum activities such as the Annual Meeting in Davos."
Dean Najam was appointed to the 2014-16 Global Agenda Council on Climate Change whose goal is to develop innovative ways to get more and more countries, companies, civil society and people involved in climate change mitigation.
During the Summit, participated in the deliberations of the Council and also participated in meetings related to the upcoming Global Risks Report, an annual analysis of the most compelling global risks and their potential solutions.
He also participated in the deliberations of the E15 Initiative, which is convened by the International Centre for Trade and Sustainable Development (ICTSD) and the World Economic Forum, and brings together world-class experts and institutions to generate strategic analysis and recommendations for government, business, and civil society geared towards strengthening the global trade and investment system for sustainable development.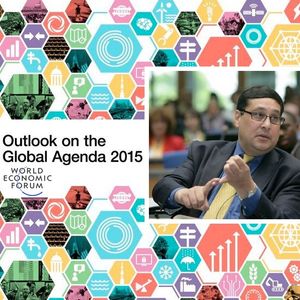 This was the second year that the Pardee School Dean was invited to the Summit. In 2014, Dean Najam had also contributed to the WEF 2015 Global Agenda Outlook Report. The report identified the top 10 most pressing long-term challenges for the world and included an essay by Najam (on occurrence of extreme weather events). Other authors contributing to that report had included, former US Vice President Al Gore; former US Treasury Secretary and President of Harvard University, Larry Summers; former UK Prime Minister, Gordon Brown, and Hollywood actor and activist, Matt Damon. [Read Essay by Dean Najam; View video of  Dean Najam's press briefing]