Renata Keller at #ScholarFest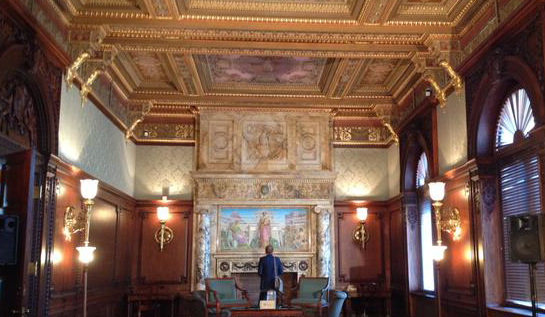 Renata Keller, Assistant Professor of International Relations at the Frederick S. Pardee School of Global Studies at Boston University, spoke at #ScholarFest 2015, an academic symposium held at the Library of Congress.
Seventy top scholars in foreign policy, history, ethics, religion and other fields within the humanities and social sciences convened on Capitol Hill over a two-day period to celebrate the 15th anniversary of the Library's John W. Kluge Center.
"I was a Kluge Fellow for the 2013-2014 academic year," said Keller in an interview. "They selected 70 of the hundreds of former fellows that they have had over the 15 years of the center's existence and paired us up with "lightning conversation" partners. Each partnership had one junior scholar and one senior one, with shared academic interests."
In the 15 years since its establishment, the Kluge Center has hosted more than 600 scholars in an array of disciplines, established competitive chair positions in areas from foreign policy to astrobiology. The center hosts talks throughout the year by residential scholars who come to the Library from across the country and around the world to use the Library's unparalleled collections.
"My partner, William Hitchcock, and I discussed the question "Does the Cold War still matter?" Since we were both Cold War historians, I think you can guess what our answer was!" Keller said. "We talked about how the Cold War has shaped not just the generation of world leaders currently in power, but how it also created the structures and practices that we still contend with in multiple facets of life today."
The event began on June 10 with a gala reception, and continued on June 11 with lightning conversations grouped around thematic topics, a video booth and open house, and remarks by Prosser Gifford and Carolyn Brown, past directors of the Kluge Center.
"My favorite part about participating was getting to return to the Kluge Center and Library of Congress to see my friends there, and meet so many of the other former fellows from different years," Keller said. "I also enjoyed the conversation itself, and the experimental format was a great way to share my academic interests with a wider public audience."
Keller's research and teaching interests focus on Latin American history, particularly the connections between foreign and domestic politics, the dynamics of the Cold War, and U.S. relations with Latin America. Her book, "Mexico's Cold War: Cuba, the United States, and the Legacy of the Mexican Revolution," is due for publication in August 2015 by Cambridge University Press. Learn more about her here.