Litvin Talks with Sayed Kashua in LA Review of Books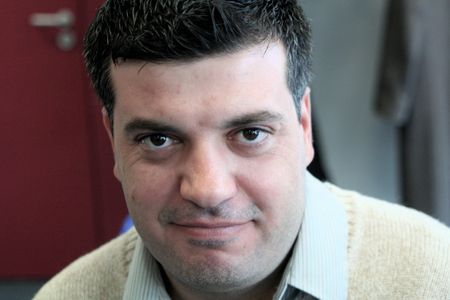 Margaret Litvin, director of the Middle East and North African Studies Center (MENA) at the Frederick S. Pardee School of Global Studies at Boston University, published an interview with Arab-Israeli author Sayed Kashua in the Marginalia section of the LA Review of Books.
"This piece exemplifies area studies humanities research within the Pardee School, taking an arts and humanities approach to current events in the Middle East," Litvin said. "The interview was co-conducted with my colleague Simon Rabinovitch in History. At BU we are blessed to have great faculty cooperation between MENA and Judaic Studies."
In addition to writing, Kashua is also a well-known Israeli television personality. He is creator and writer of the satirical Israeli TV series Avoda Aravit (Arab Labor), the first non-news show to include Arabic dialogue in prime-time.
Litvin writes in the Nov. 25 interview:
"In a polyglot mix of Palestinian Colloquial Arabic and Hebrew, with other languages sprinkled in (English, literary Arabic, even a scene where Palestinian grandparents switch to Yiddish for privacy), Arab Labor follows an Arab Israeli family and their friends through adventures with work, school, family, and doomed attempts at belonging…Last July, during the war in Gaza and amid anti-Arab racist violence in Jerusalem, where they lived, Kashua decided that his family needed to leave Israel. Their planned one-year sabbatical in the United States (specifically Champaign, Illinois) would become an exile. Announced publicly in his weekly Haaretz column, his decision resonated internationally, irking Israel's defenders and critics alike."
Margaret Litvin writes about modern Arabic drama and political culture. Her book, Hamlet's Arab Journey: Shakespeare's Prince and Nasser's Ghost (Princeton, 2011), examines the many reworkings of Shakespeare's Hamlet in postcolonial Egypt, Syria, and Iraq. Her current book project (working titleArab Writers, Moscow Dreams: Forgotten Flows of Twentieth-Century Culture) explores the educational and cultural ties between the Soviet Union and several Arab countries during and since the Cold War, tracing their effects on Arabic literature and theatre. She holds a PhD from the University of Chicago's Committee on Social Thought (2006) and has been an Andrew W. Mellon Postdoctoral Fellow in Yale University's Whitney Humanities Center. Her articles and reviews have appeared in Critical Survey, theJournal of Arabic Literature, Shakespeare Studies, Shakespeare Yearbook, and Shakespeare Bulletin.
You can read the entire interview here.