Erik Goldstein Attends IB Board Meeting in Geneva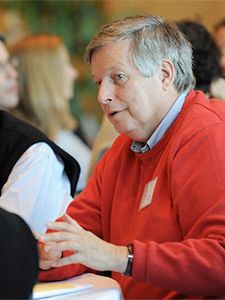 Erik Goldstein, professor of international relations and history at the Boston University Frederick S. Pardee School of Global Studies,  attended the 75th meeting of the Board of Governors of the International Baccalaureate (IB) at Geneva 13-16 November. Prof. Goldstein, who had served as the Chair of the Boston Univeristy Department of International Relations for 12 year and is a Fellow of the Royal Historical Society (Great Britain), has been a member of the IB board since 2010.
Founded in 1968, the International Baccalaureate Organization currently works with 3,765 schools in 147 countries to develop and offer four challenging programs to over 1,178,000 students aged 3 to 19 years. Its mission is to develop inquiring, knowledgeable and caring young people who help to create a better and more peaceful world through intercultural understanding and respect.
To this end the IB works with schools, governments and international organizations to develop challenging programs of international education and rigorous assessment. These programs encourage students across the world to become active, compassionate and lifelong learners who understand that other people, with their differences, can also be right.