Pardee Center and GDP Center Co-organize Workshop with CAF on Future of Infrastructure Development in South America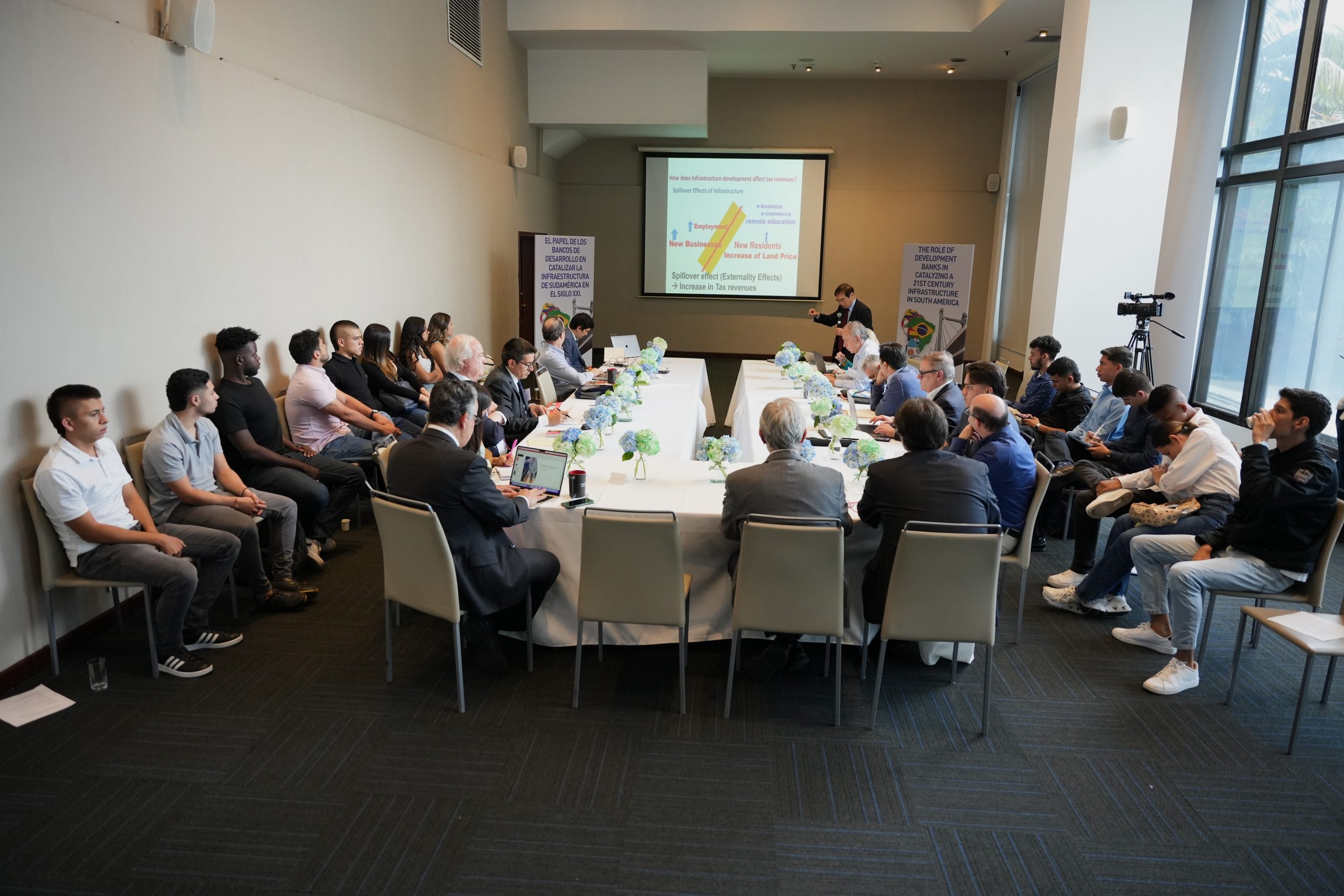 On May 16, 2023, the Pardee Center for the Study of the Longer-Range Future, the Global Development Policy Center, and the Development Bank of Latin America (CAF) held a workshop in Cali, Colombia, titled "Financing the Foundation: The Role of Development Banks in Catalyzing a 21st Century Infrastructure in South America."
The meeting, held in association with the Pontificia Universidad Javeriana de Cali and the Council on Infrastructure Policies (CPI) of Chile, brought together specialists from seven countries and three continents to analyze one of the region's biggest challenges: how to increase infrastructure investment in a region with a persistent deficit in its transport and logistics facilities. Only Sub Saharan Africa spends less than Latin America on infrastructure (which spends 2.5 percent of GDP, compared with 8 percent in Asia and 4 percent in North Africa and the Middle East). The net result is that the transport and logistics cost per export unit in the region varies between 13 and 18 percent, which is twice the average cost in OECD countries, thus seriously affecting the region's competitiveness and productivity.
Five thematic panels ("The state of public infrastructure in South America"; "The Colombian experience in public-private partnerships in infrastructure"; "Getting megaprojects off the ground"; "Infrastructure financing by multilateral development banks"; and "Lessons drawn and the way forward") led to lively exchanges on the subject. A key point made was that one reason East Asia continues to grow at high rates — whereas Latin America may have negative growth in 2023 — is that Asian governments realize that investment in infrastructure is a revenue-enhancing and spillover-effects producing mechanism.
Speakers at the workshop included Carlos Cruz, former minister of Public Works for Chile and head of CPI; Prof. Naoyuki Yoshino, former Dean of the Asian Development Bank Institute (ADBI) in Tokyo; Prof. Virginia Greiman of the Boston University School of Law; Andrés Escobar, former CEO of the Bogotá Metro; Rogèrio Studart, former Brazilian representative to the World Bank; Juan Benavides, Research Fellow at FEDEDESARROLLO; Nicolás Estupiñan and Angel Cárdenas of CAF; and Germán Lleras, Regional Director of Steer Group.
In the closing panel, Rodrigo Peñailillo, CAF Representative in Colombia, and Jorge Heine, Interim Director of the Pardee Center, committed to follow-up initiatives across a variety of issue areas on this first joint venture between Latin America's Development Bank and Boston University. A policy brief summarizing the main conclusions of the workshop deliberations and presenting policy recommendations will be published shortly.