Fulweiler Co-Authors Paper Resulting from Pardee Center Workshop on Denitrification in Oyster Habitats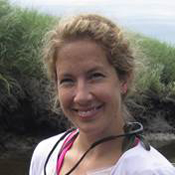 Robinson (Wally) Fulweiler, a Professor of Biology and Earth & Environment and a Pardee Center Faculty Research Fellow, co-authored a new paper exploring the opportunities for enhanced denitrification in oyster habitats.
In the paper, published in the journal Estuaries and Coasts, the authors explain that policy interest in nitrogen removal from oyster habitats has so far focused mostly on biomass harvest, but that the water quality benefits of oyster-mediated denitrification (the microbial process of nitrogen transformation to di-nitrogen gas) may actually eclipse those from biomass harvest. They discuss policy options for expanded oyster-mediated denitrification and argue that the strategy should be incorporated into nitrogen management plans.
The paper is a product of a two-day workshop convened by Prof. Fulweiler and hosted by the Pardee Center in September 2019. The workshop explored the nitrogen removal capacity of oyster habitats via denitrification, bringing together a group of about 30 experts to assess the current state of knowledge on denitrification associated with oyster aquaculture.
Read the paper here.