Faculty Associates Kaufman, Gopal Co-Author Paper on Using Big Data for Food, Energy & Water System Sustainability
Prof. Suchi Gopal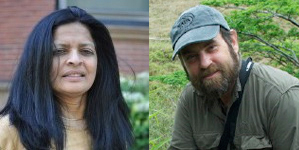 and Prof. Les Kaufman, Faculty Associates at the Frederick S. Pardee Center for the Study of the Longer-Range Future, co-authored a new paper on the application of big data science to improve food, energy, and water systems (FEWS) sustainability.
In the paper, published in the journal Frontiers in Big Data, the authors present a research methodology for applying big data science to ecosystem management decision-making, helping fishers, farmers, NGOs, government agencies, and others design and implement plans to advance FEWS sustainability.
Read the full paper here.
Prof. Gopal and Prof. Kaufman lead the Pardee Center's Coupled Human and Natural Systems research project, along with Visiting Research Fellow Roel Boumans (who was also a co-author of the article) and senior post-doctoral associate Emily Klein. The CHANS project explores how governance, social, and economic systems are intricately connected to natural systems, and investigates how to better understand the trade-offs that confront those making resource management decisions.