Upcoming Seminar: Conservation in Urban and Suburban Landscapes: What Does Nature Mean?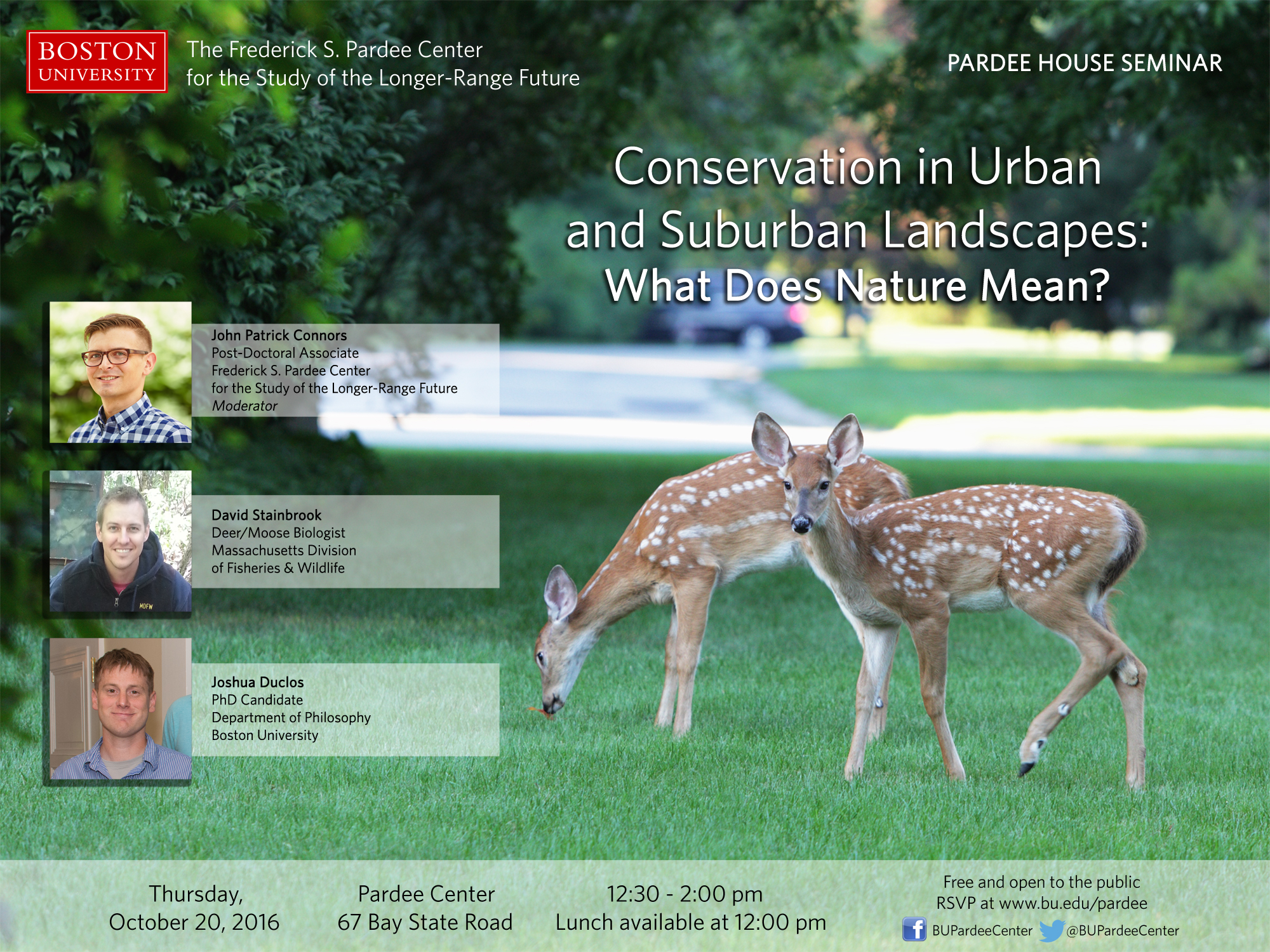 The Frederick S. Pardee Center for the Study of the Longer-Range Future invites you to attend its upcoming seminar, "Conservation in Urban and Suburban Landscapes: What Does Nature Mean?" The seminar will be held at the Pardee Center at 67 Bay State Road on Thursday October 20, 2016 from 12:30 – 2:00 pm (lunch will be provided beginning at 12:00 pm).
Pardee Center post-doctoral associate John Patrick Connors will moderate a panel featuring David Stainbrook, a Deer/Moose biologist at the Massachusetts Division of Fisheries & Wildlife, and Joshua Duclos, a PhD candidate in the BU Department of Philosophy and a 2016 Pardee Graduate Summer Fellow.
They will discuss the distinct challenges for conservation and wildlife management in the environmental and social context of suburban landscapes. The conversation will give particular attention to the emerging challenges of deer management across Massachusetts, and the controversies that have surrounded recent hunts. In this context, the discussion will also consider the ethical parameters of wildlife conservation, specifically the issue of making tradeoffs between sacrificing individual animals and preserving a landscape.
Speaker Biographies:
John Patrick Connors, a post-doctoral associate at the Pardee Center, is a geographer specializing in the study of social-ecological systems, focused primarily on issues of food system sustainability and processes of land cover change. His research has examined an array of issues related to land use and land cover change. Most recently, he has worked in Tanzania's Kilombero Valley to understand the politics of agricultural development and the role of crop diversity in supporting the livelihoods of smallholder farmers. He has also worked on projects to understand the potential of urban agriculture for supporting the well-being of growing populations in the cities of sub-Saharan Africa. His current research seeks to develop new concepts regarding the resilience of food systems and the management of landscapes to support ecosystem services and conservation.Connors completed his PhD at Arizona State University in the School of Geographical Sciences in Urban Planning, and holds a MA in Geographic Information Science, and a BA in Geography from Clark University.
David Stainbrook is the deer and moose project leader for MassWildlife (Massachusetts Division of Fisheries and Wildlife), so he is responsible for overseeing the management of deer and moose populations in the state. He has been with the agency for about 5 years and resides in central MA with his wife and daughter. David received his B.S. (major: biology, minor: psychology) from Allegheny College and his M.S. (Wildlife and Fisheries Science) from Penn State University, with a special focus on estimating wildlife populations.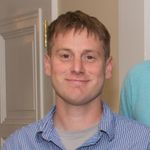 Joshua Duclos is a Ph.D. candidate in philosophy at Boston University. His dissertation focuses on the meaning and value of wilderness in environmental ethics. Josh earned his BA at Connecticut College and his MA at the University of Chicago. From 2008 to 2009 he was a US Fulbright scholar in the Czech Republic. This past summer he was a Graduate Summer Fellow at the Pardee Center. He teaches philosophy courses in ethics, logic, and politics.