Panels Speak on the Latin American Urban Experience at Pardee Event
The Frederick S. Pardee Center for the Study of the Longer-Range Future,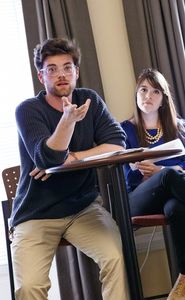 the Latin American Studies Program and the Initiative on Cities at Boston University cosponsored an event on April 9th on "Latin American Urban Experiences: Crisis, Creativity, and Renewal".
The conference, organized by Pardee Faculty Fellows Susan Eckstein and Enrique Silva, featured faculty and student panel presentations on life in Latin American cities. Student panelists Marlene Stoute (Panama City, Panama), Paola Peynetti Velazquez (Mexico City, Mexico), Karla Sofia Leon (Quito, Ecuador), Daniela Barquet Hornback (San Juan, Puerto Rico), and Daniel Finco Matteo (Caracas, Venezuela) discussed their experiences in a variety of Latin American urban centers, highlighting social issues and inequalities but also noting recent developments and prospects for future advancement.
Faculty panelists included: Department of Archeology Professor David Carballo who discussed life in pre-Columbian Mexico and lessons that can contribute to modern city planning initiatives; Department of Romance Languages Professor Adela Pineda who spoke on the role
of literature and film in shifting perceptions of 20th century Mexico City; Department of History Professor Jeff Rubin who discussed urban activism in Latin American democracies and his work on how different groups endure reform; Department of Art History Professor Ana Maria Reyes who explored the role of cemeteries as centers for social activity and remembrance; and Metropolitan College Professor Enrique Silva who spoke about the development of urban highways in Chile and how strategic city planning impacts life in large urban areas.
The event concluded with comments from Thomas Menino, co-director of the Initiative on
Cities and the former Mayor of Boston, who highlighted the Latin American experience in Boston and existing social programs that ease the transition to life in the US for immigrants from Latin America and elsewhere.
This event was part of the Pardee Center's larger initiative on The Urban Century, a project  bringing together scholars, policymakers, and practitioners to look at innovative approaches to alleviating pressures that accompany rapid expansion of population and land area in growing cities.