Pardee Center Director Addresses Lion's in Bangkok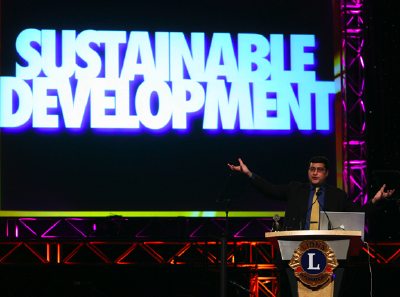 Prof. Adil Najam, Director of the Boston University Frederick S. Pardee Center for the Study of the Longer-Range Future presented a keynote address to the nearly 20,000 participants of the 91st International Convention of the Lion's Club, in Bangkok, Thailand.
The Pardee Center Director's speech focussed on the future of the planet and drew out links between sustainable development, global climate change, and human security. Dr. Najam urged the Lion's Club as an organization and its members to think of development in the broadest terms and to consider practical ways in which the lives of people around the planet could be improved. He argued that development was not simply another term for "economic growth" and that it is best understood in the context of "human development", and therefore the concept of human security was also critical.
Dr. Adil Najam argued that climate change is one of the most pressing challenges of our times, and particularly so for the poorest people in the world. Any discussion of climate change has to place the concerns, including the human security concerns, of the poorest people at the center of the discussion. He suggested that in although most climate discussions today are done in the context of energy issues, we will see more and more of these contextualized in terms of water issues in the future, because climate impacts often manifest themselves as water-related challenges.
The Pardee Center Director's speech recieved a thunderous applause and a standing ovation from the nearly 20,000 people in the audience at Bangkok's IMPACT Convention Center. The Convention's closing ceremony was addressed by Dr. Muhammad Yunus of Grameen Bank, Bangladesh.
Lions Clubs International is the world's largest service club organization. Currently the Lion's Clubs association has 1.3 million members in 202 countries and geographic areas. In addition to its efforts toward conquering blindness, the organization has made a strong commitment to community service and helping youth throughout the world.