Boston University's Anatoly Temkin and Daniel Hillman Win Blackboard Catalyst Award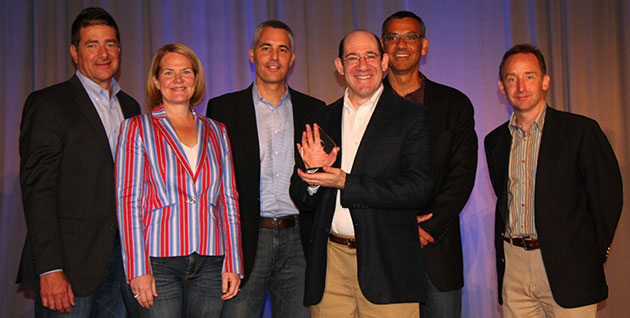 Boston, Mass. – July 15, 2014 – Dr. Anatoly Temkin, chair of computer science at Boston University's Metropolitan College, and Dr. Daniel Hillman, senior instructional designer in the University's office of Distance Education, were named winners of a Blackboard Catalyst Award for Exemplary Course Program, which recognizes faculty and course designers from schools, colleges and universities around the world who develop exciting and innovative courses that represent the very best in technology and learning. Not only was the course—Quantitative Methods for Information Systems, taught by Professor Temkin—chosen to receive an Exemplary Course Award, but it was also named a Directors' Choice for Courses with Distinction, an honor awarded to a select group of courses that stand out even from other winning entries.
Part of the annual Blackboard Catalyst Awards program since 2000, the Blackboard Exemplary Course Program Award highlights technologically rich, engaging, well designed, and pedagogically sound courses that showcase best practices for the user community. Over 200 entries were evaluated in a rigorous peer-review process by more than 300 faculty and instructional designers. Submissions were judged on the following components: course design, interaction, collaboration, assessment and learner support.
The Blackboard Catalyst Awards program annually recognizes and honors innovation and excellence in the Blackboard global community of practice, where teachers and learners work every day to redefine what is possible when leveraging technology.
"It's always gratifying to have colleagues say that you've made something special," says Professor Temkin. "The course itself is a straightforward example of proven distance education practices with many opportunities for student interaction. Dan and I did extend Blackboard's capabilities with some customized software, but the judges were particularly impressed by a human element of the course. We simply call every student to talk about how things are going. Obviously this takes time, but we think that it is important to form this connection, especially in math, where students are often intimidated by the material."
"We built a lot of features where students get feedback and guidance through interaction with the content, the professor and facilitators, and each other—and we tried to make interacting with the course itself seamless and easy," says Dr. Hillman. "Winning an award like this is actually humbling because when you describe the elements that make your course extraordinary, you're reminded that they come about through the ideas and efforts of a multidisciplinary team."
"It's an honor each year to recognize forward-thinking educators who are helping create a world inspired to learn through the work they do every day," said Jay Bhatt, Blackboard CEO. "We congratulate Catalyst Award winners on their vision and innovative approaches to education, and celebrate their accomplishments with them."
Professor Temkin and Dr. Hillman of Boston University's Metropolitan College were honored alongside other Blackboard Catalyst Award winners during BbWorld®, Blackboard's annual user conference held in Las Vegas, Nev.
Blackboard is a global leader in enterprise technology and innovative solutions that improve the experience of millions of students and learners around the world every day. Blackboard's solutions allow thousands of higher education, K-12, professional, corporate and government organizations to extend teaching and learning online.
Professor Temkin's course, Quantitative Methods for Information Systems, is part of Metropolitan College's online master's degree program in Computer Information Systems, ranked #2 among U.S. News & World Report's Best Online Information Technology Programs. For more information about Quantitative Methods for Information Systems, see our course listings.
View a complete list of Blackboard Catalyst Award winners.